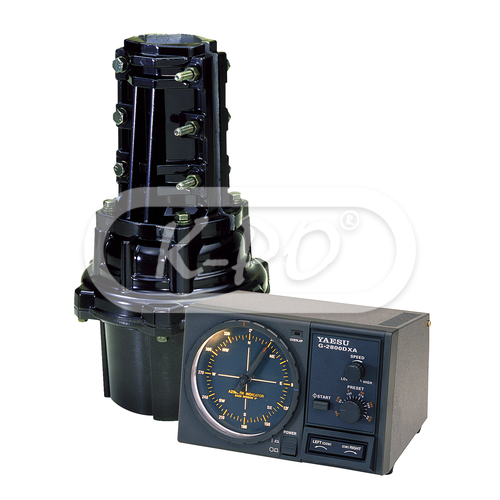 Yaesu - G-2800DXC
Our newest top-of-the-line rotator is for extra-heavy-duty antenna installations. It includes "Auto Slow Start" and "Auto Slow Stop" features to avoid sharp jolts to the antenna array and tower. The G-2800DXA includes a rugged mast clamp and 40 meters of control cable, for easy installation. Total rotation range: 450°, with presets.
Compass Display

Stop may be set at North or South.
Preset Control

For hands-free rotation during busy operating sessions.

Variable Speed

50 - 120 seconds for 360º of rotation.
Planetary Gear System
For improved braking and precision when using large arrays.
Shipped next business day
€999.94

(826.4 excl. 21% VAT)
Electrical data

Power supply voltage:

220 V

Rotator voltage:

11 - 24 Volt

Power supply current consumption:

1.5 A

Operating temperature (Rotator):

-20℃ to +40℃

Operating temperature (Controller):

0℃ to +40℃

360° Rotation time (Non loaded):

120 ± 10 sec to 50 ± 5 sec (Variable)

Rotation range:

450° ±3

Rotation torque:

800 to 2,500 kgf-cm

Braking torque:

25,000 kgf-cm

Maximum vertical load:

Coninuous: 300 kg or less / Momentary: 1200 kg

Braking type:

Mechanical and electrical stoppers

Antenna K coefficient:

950 or less

Maximum continuous duty:

3 minutes

Type of rotor:

Azimuthal
Mechanical data
Wind loading area:

Pole type: 1.0 m² x 0.8 m or less / Tower type: 3.0 m² or less

Mast diameter:

Ø 48 to 63 mm

Diamater (Rotator):

Ø 186 mm

Height (Rotator):

345 mm

Weight (Rotator):

±6500 gram

Length (Controller):

193 mm

Height (Controller):

130 mm

Width (Controller):

200 mm

Weight (Controller):

±3800 gram
Inside the box

Controller unit:

1 pcs

Rotor unit:

1 pcs

Mast clamp:

1 pair

Control cable (40 m, 6 core cable):

1 pcs

M8 x 95 mm socket head cap screw:

1 pcs

M8 x 18 mm hex bolts:

4 pcs

M8 x 30 mm hex bolts:

4 pcs

M8 x 70 mm hex bolts:

6 pcs

Split washers:

14 pcs

Flat washers:

10 pcs

M8 nuts:

7 pcs

Installation manual:

English