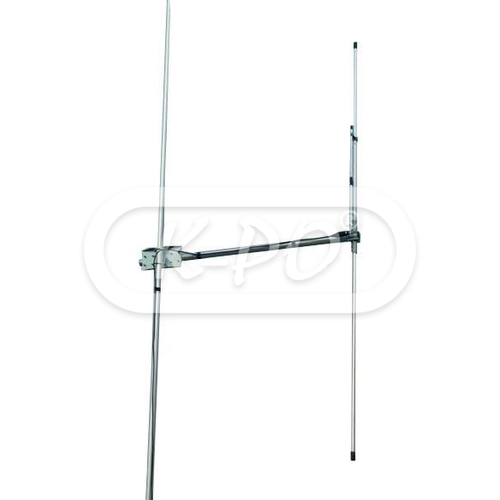 K-PO - DP-100 dipole
Our version is modified with a longer boom (L4) to achieve a better performance in vertical position.
Dipole base station antenna working on 87-194 MHz by cutting. Optimized for vertical polarization it can be also placed in horizontal polarization. The elements are fixed to the boom by a strong die-cast metal support to get the maximum strength. All connections are waterproof and it is supplied with UHF female connector. To improve the antenna gain please install it in stacked or bayed array.
Frequency range:
87 - 194 MHz tunable
Shipped today
€69.95

(57.81 excl. 21% VAT)
Electrical data
Electrical type:

1/2 λ

Gain:

1.85 dBd, 4 dBi (vertical polarization only)

VSWR:

≤ 1.2 (vertical polarization only)

Bandwidth:

14.5 MHz ≤ 1.5 (vertical polarization only)

Maximum continuous power:

300 Watts (CW)

Impedance:

50 Ohm

Polarization:

Linear vertical / Linear horizontal /
Mechanical data
Materials:

Aluminium, chromed brass, galvanized steel, zamak

Mast Ø:

35 - 52 mm

Max wind resistance:

160 km/h

Length:

1030 mm

Height:

1600 mm

Weight:

1850 gram

Mounting type:

On mast

Antenna connector:

UHF-female
Inside the box
Antenna:

Yes

Mounting parts:

Yes

Installation manual:

English