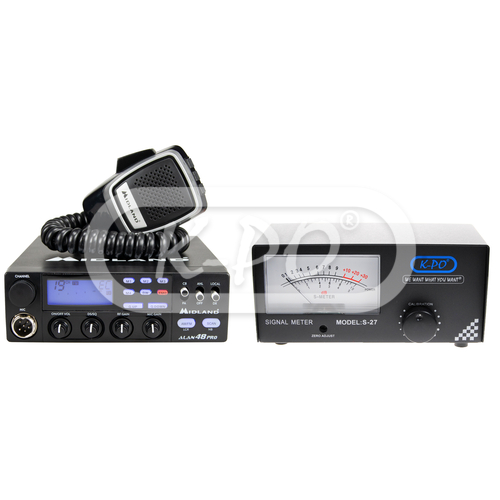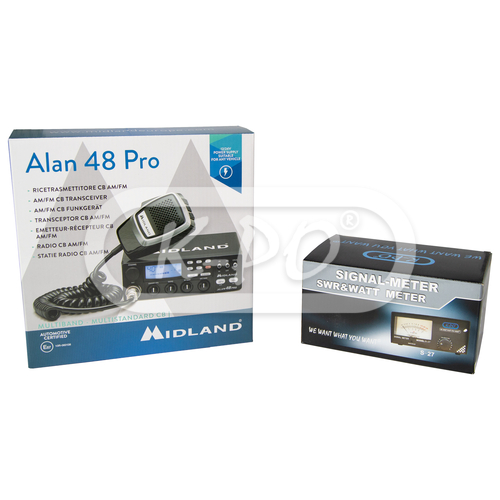 Midland - Alan 48 Pro FOX hunting pack
The Midland Alan 48 Pro FOX hunting pack contains a modified Midland Alan 48 Pro that works with the K-PO S-27 signal meter.

The Midland Alan 48 Pro is the top of the range multiband, the CB line expressly conceived for trips and routes in different European countries.What does this mean?It means that Alan 48 Pro has an adjustable power – 1W/4W – to be adjusted to the frequencies and regulations of the country in which it is used. With a power supply voltage of 12/24 V, Alan 48 Pro does not need reducers and it is of easy installation in the dashboard compartment, thanks to the DIN bracket (optional). Alan 48 Pro is high tech and complete in facing all sorts of noises: it is equipped with the Digital Squelch, that eliminates the background swish and the Noise Blanker, to cancel the environmental noises.
The K-PO S-27 is an external signal meter (FOX meter) and is ideal for 'FOX hunting'. The K-PO S-27 has a strong and robust metal housing.
Frequency range:
26.965 - 27.405 MHz
Out of stock - Longer delivery time
€239.94

(198.3 excl. 21% VAT)
Features
Modulation:

AM / FM

Multi-bands:

Yes

Output power:

1 - 4 Watt / Duty cycle 10% @ 13.8V DC

Channels:

40 AM / FM

Display type:

LCD display

Display colors:

Blue

Noise blanker:

Yes

Squelch:

ASQ (Automatiq Squelch Systeem) / DSS (Dynamic Squelch System) /

Emergency channel:

Yes

Keypad lock:

Yes

Scan function:

Yes

Quick channel selection:

Yes

External speaker socket:

Yes

External S-meter socket:

Yes

External PA socket:

Yes

S-meter:

Yes

MIC gain:

Yes

RF gain:

Yes

Dual watch:

Yes
Electrical data (Radio)
Voltage: 13,8 Volt / 24 Volt
Operating temperature: -10° to +55° C
Operating mode: F3E (FM) / A3E (AM)
Frequency control: PLL synthesizer
Frequency tolerance: 0.002%
Transmitter
Audio frequency response:

300 Hz - 3 kHz

Modulation AM:

from 85% to 95%

Modulation FM:

1.8 kHz to ± 0.2 kHz

Drain:

13.8 Volt: 1100 mA
Receiver
AM sensitivity:

0.5 µV for 20 dB SINAD

FM sensitivity:

0.5 µV for 20 dB SINAD

Frequency response:

300 Hz - 3 kHz

Adjacent channel selectivity:

65 dB

Signal to noise ratio:

45 dB

Maximum audio power:

2 Watt

Internal speaker:

8 Ohm

Receiving system:

Dual conversion superheterodyne

IF frequencies:

Double conversion 1st 10.695 MHz / 2nd 455 kHz

Audio distortion:

Less than 8% @ 1 kHz

Image rejection:

65 dB
Mechanical data (Radio)
Length: 180 mm
Height: 50 mm
Width: 150 mm
Weight: 1000 gram
Mike connector: 6 pin connector
Electrical data (S-27)
Impedance: 10K Ohm
Voltage: 13.8 Volt, for display lightning only
Sensitivity: 80 uA-'9'
Illuminated display: Yes
Power consumption: 50 mA
Mechanical data (S-27)
Input connector: UHF (PL) female
Output connector: UHF (PL) female
Length: 80 mm
Height: 80 mm
Width: 170 mm
Weight: 600 gram
Connection: Ø 2.5 mm Jack
Inside the box
Transceiver:

1 pcs

Microphone:

1 pcs

Fixing screws:

1 set

Mounting bracket:

1 pcs

Power lead:

1 pcs

User Manual:

English, German, Spanish, Italian, French, Polish, Romania

Microphone holder:

1 pcs

Meter:

1 pcs

DC power cable:

1 pcs