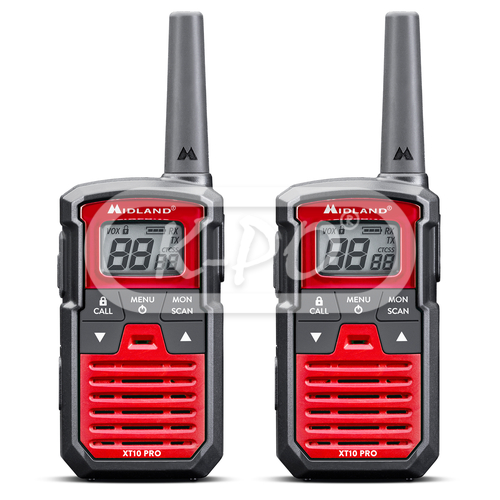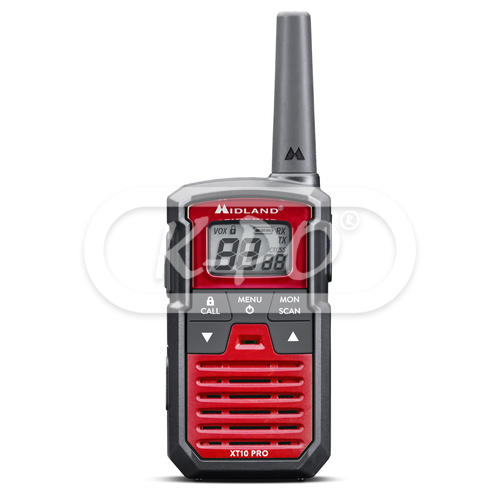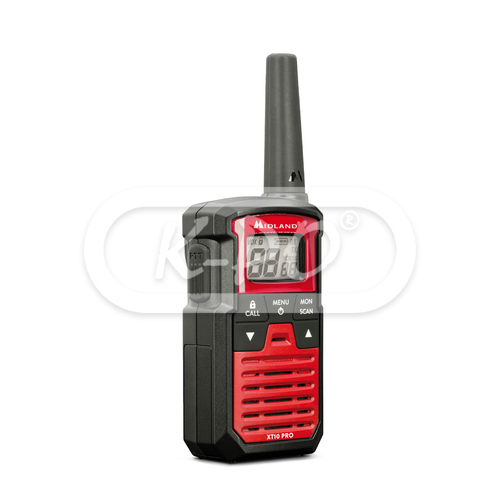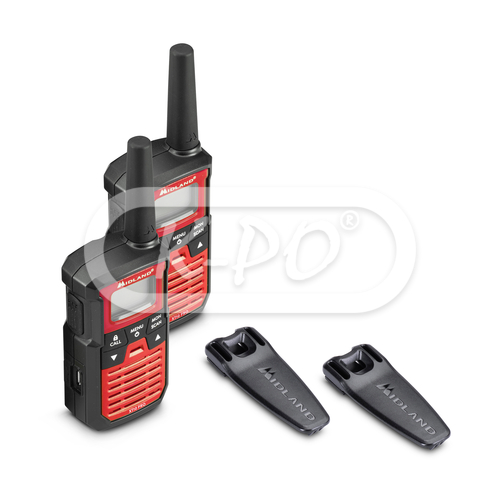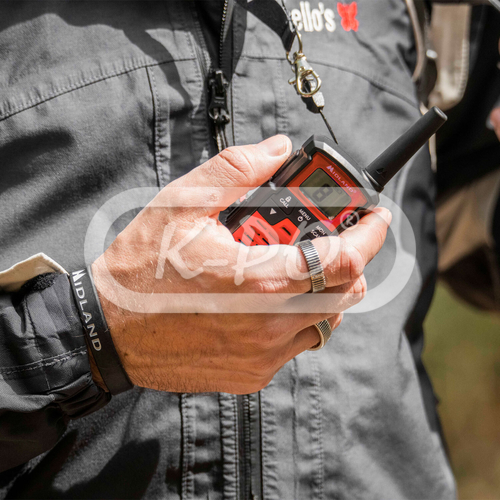 Midland - XT10 PRO
Midland improves the XT line of excellence and makes it PROfessional. What does it mean? More functions, better performance and greater safety.

The Midland XT10 PRO keeps the red colour to give continuity, but definitely expands its performance with a wider frequency band (PMR446: 446.00625 - 446.19375MHz) and is now water-repellent to humidity and dew (splash proof). XT10 PRO confirms communication over distances up to 4 km in optimal conditions, the ease of use that distinguishes the entire XT line and all the features already present.
While remaining tools within everyone's reach, walkie talkies are the ideal companion for your excursions. Simple and light, as well as very practical, they can increase the level of safety while carrying out an outdoor activity. Especially when you go out as a couple or in a group, this tool becomes indispensable, since it will allow you to keep in close contact with your partner, and prevent an unexpected event from turning a pleasant trip into a situation that is not easy to deal with.

Frequency range:
446.00625 - 446.19375 MHz
Shipped next business day - Stock: 5
€69.95

(57.81 excl. 21% VAT)
Features
Number of channels:

16 PMR446 (8+8 preprogrammed)

Number of zones:

1

Output power:

500 mW

Channel spacing analogue:

12.5 kHz

Battery saver mode:

Yes

Call alert:

Yes

Key lock:

Yes

Scan:

Yes

Display:

Yes

Scan function:

Yes

Battery capacity:

3x AAA batteries (not included)

Range:

Up to 4 km range (depending on terrain and conditions)

VOX:

Yes, 1 Level

CTCSS:

Yes, 38 tones
Mechanical data
Length:

29 mm

Height:

90 mm

Width:

48 mm

Weight:

75 gram (without batteries)

Chassis:

ABS

Working temperature:

-20° to +55° C

Color:

Black / Red
Inside the box
Radio:

2 pcs

Belt clip:

2 pcs

User manual:

English