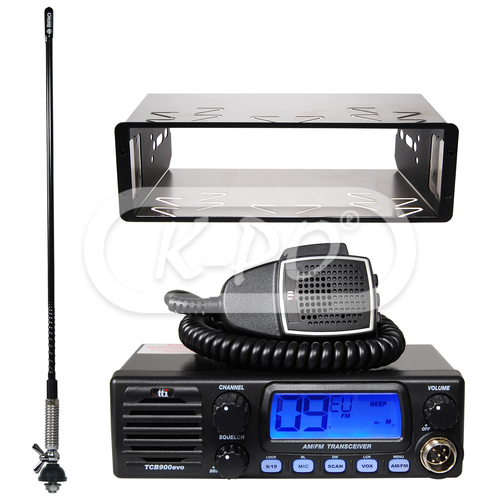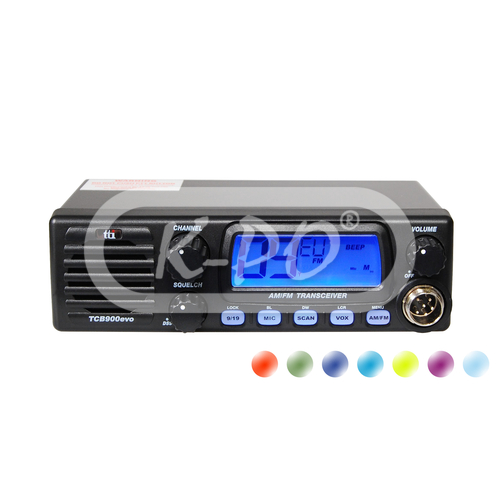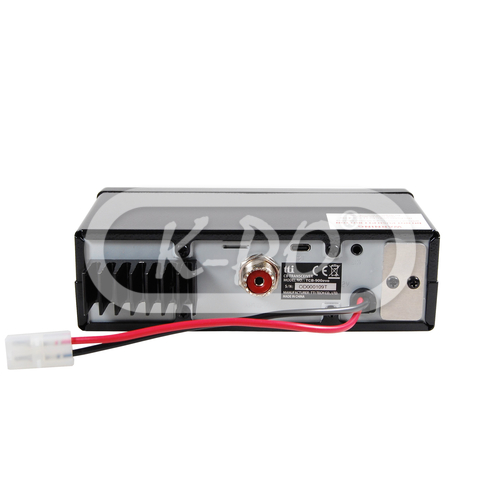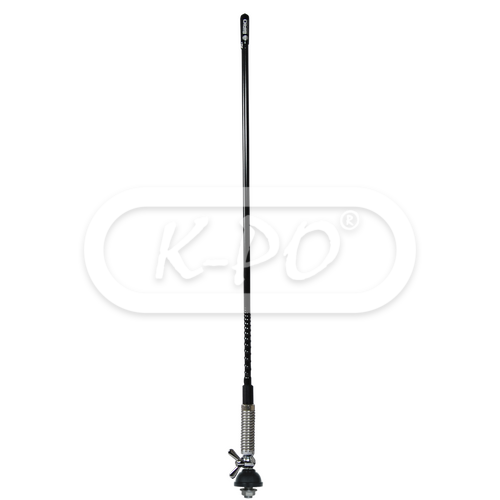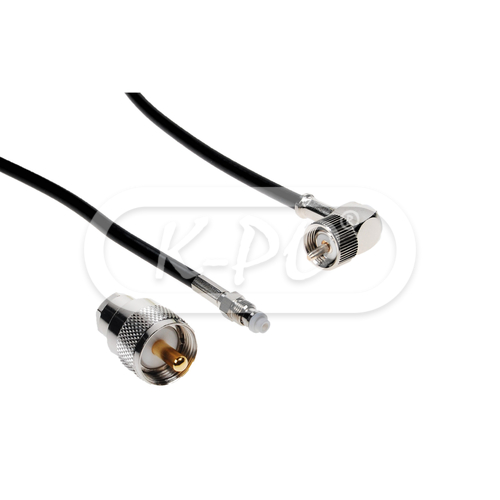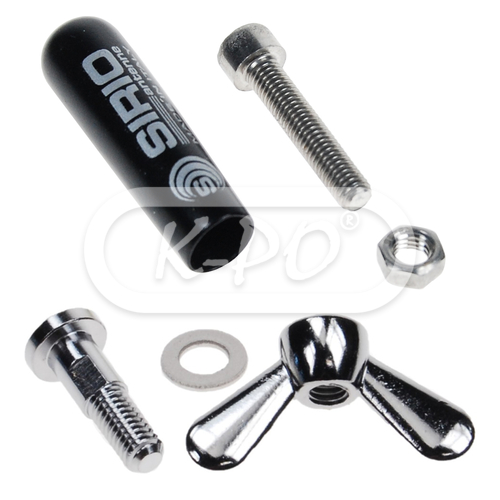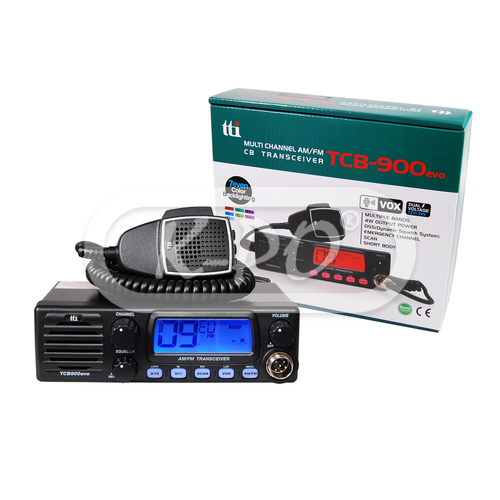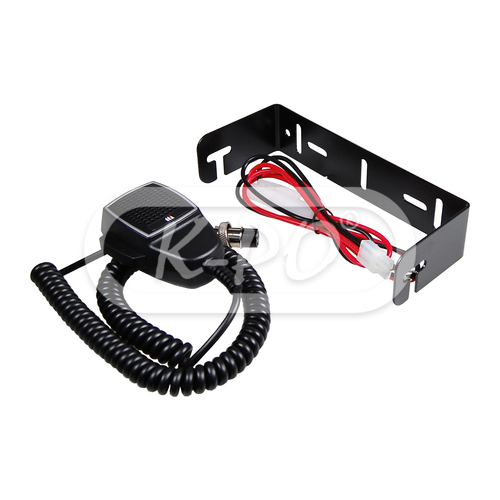 TTI - TCB-900evo PRO pack
The TTI TCB-900evo PRO pack is a complete frontspeaker CB radio pack. This package offer you all the accessoires that you need to built-in the TTI TCB-900HP into your truck, construction- or agricultural machinery.
The package includes the professional TTI TCB-900evo frontspeaker CB radio that can be used on 12/24 volts and with seven clear display colors, with the K-PO 30301 DIN mount for a perfect installation and the popular Sirio T4-27N FME antenna with a length of 74 cm (including FME to UHF male connector, no soldering needed).

Frequency range:
26.965 - 27.405 MHz
Shipped next business day - Stock: 3
€149.94

(123.92 excl. 21% VAT)
Features
Modulation:

AM / FM

Multi-bands:

Yes

Output power:

4 Watt / Duty cycle 10% @ 13.8V DC

Channels:

40 AM / FM

Front speaker:

Yes

Display type:

LCD display

Display colors:

Green / Orange / Purple / Blue / Cyaan / Yellow / Clear Blue

VOX Function:

Yes

Noise blanker:

Yes

Squelch:

Automatic squelch / DSS (Dynamic Squelch System) / Manual squelch /

Emergency channel:

Yes

Keypad lock:

Yes

Scan function:

Yes

External speaker socket:

Yes

S-meter:

Yes

MIC gain:

Yes
Electrical data (radio)
Voltage: 13,8 Volt / 24 Volt
Operating temperature: -10° to +55° C
Operating mode: F3E (FM) / A3E (AM)
Frequency control: PLL synthesizer
Frequency tolerance: 0.002 %
Transmitter
Audio frequency response:

300 Hz - 3 kHz

Modulation AM:

from 85% to 95%

Modulation FM:

1.8 kHz to ± 0.2 kHz

Harmonic suppression:

Less than -36 dBm

Drain:

13.8 Volt: 1.6 A max.
Receiver
AM sensitivity:

0.7 µV for 10 dB

FM sensitivity:

0.7 µV for 20 dB SINAD

Frequency response:

300 Hz - 2.5 kHz

Adjacent channel selectivity:

More than 60 dB

Maximum audio power:

2 Watt

Internal speaker:

8 Ohm, round

Receiving system:

Dual conversion superheterodyne

IF frequencies:

Double conversion 1st 10.695 MHz / 2nd 455 kHz

Audio distortion:

Less than 8% @ 1 kHz

Image rejection:

More than 60 dB

Conducted spurious:

Less than -57 dB

Squelch:

Adjustable, threshold less than 1 µV, DSS less than 2 µV
Mechanical data (radio)
Length: 95,6 mm without heatsink. (with heatsink 115 mm)
Height: 51 mm
Width: 170 mm
Weight: 1100 gram
Antenna connector: UHF (PL) female (SO-239)
Mike connector: 6 pin connector
Electrical data (antenna)
Electrical type: Logarithmic loaded
VSWR: ≤ 1.2
Bandwidth: 700 kHz (65 channels) ≤ 2.0
Power continues: 20 Watts (CW)
Power peak: 100 Watts (CW)
Impedance: 50 Ohm
Polarization: Linear vertical
Cable: Yes
Cable length: 4 meter / RG 58
Mechanical data (antenna)
Materials: Brass, stainless steel, nylon
Height: 620 mm
Weight: 400 gram
Mounting type: 92 mm magnet
Inside the box
Transceiver:

1 pcs

Microphone:

1 pcs

Fixing screws:

1 set

Power lead:

1 pcs

User Manual:

English, Italian, French, Romania, Russian, Spanish

Antenna:

1 pcs

Microphone holder:

1 pcs

DIN mount:

1 pcs