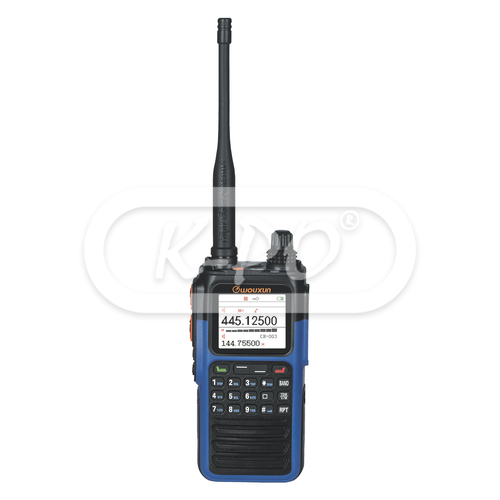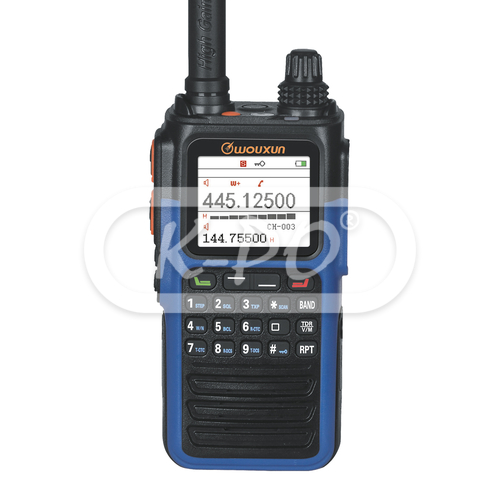 Wouxun - KG-Q332
The Wouxun KG-Q332 tri-band handheld radio is together with the Wouxun KG-Q332 one of Wouxun' new top models.
The KG-Q336 can be used for TX on 50-54, 136-174 and 400-480 MHz and wide band RX on 76-108, 108-136 (Airband AM), 136-174, 222-225, 320-400, 400-480 MHz and 714-999 MHz.
Both models have features like a cross-band repeater, dual-reception, double PTT, scan function, scrambler, compander, programmable side keys and many more interesting features that are listed below.
With the free downloadable PC program software you can easily program your frequencies and change all setting to your own preferences*.
This all comes in the new and modern radio housing from Wouxun, which includes a heavy duty 3000 mAh battery pack, USB-C charging function (charging cable not included), table charging function, clear multi-color display, flashlight and IP65 waterproof index.
Our version is the approved European version with CE (RED).

*Program cable not included, we recommend product code 2399
Frequency range:
TX/RX: 50-54 MHz / 136-174 MHz 400-480 MHz, RX: 76-108 MHz / 108-136 MHz (AM) / 136-174 MHz (FM) / 222-225 MHz (FM) / 320-400 MHz (FM) / 400-480 MHz (FM) / 714-999 MHz (FM)
Out of stock - Longer delivery time
€179.95

(148.72 excl. 21% VAT)
Features
Display:

Yes, large color display

Emergency (SOS) function:

Yes

Flashlight:

Yes

Priority channel scan:

Yes

High/low power selection:

Yes

Voice guide:

English

Battery capacity:

Li-ion 3000 mAh (7.4V)

Waterproof index:

IP65

Accessory connector:

2-pin Kenwood (K)

Busy channel lockout:

Yes

CTCSS / DCS:

Yes, RX and TX, programmable by computer

Scan group:

Yes

Call Code:

Yes

Scrambler:

Yes

Compander:

Yes

AM Mode SW:

Yes

Battery Save Mode:

Yes

Transmit Timeout Timer:

Yes

Transmit Timeout Alert:

Yes

Multi Keys Options:

Yes

Repeater PTT:

Yes

Time Zone:

Yes

Two menu system:

Yes

FM Radio:

Yes

PF options (programmable keys):

Yes, PF1, PF2, PF3 modes

PTT ID transmit modes:

Yes
Electrical data
Frequency step:

2.5 kHz / 5 kHz / 6.25 kHz / 8.33 kHz / 10 kHz / 12.5 kHz / 25 kHz / 50 kHz / 100 kHz /

Channels:

999

Wide and narrow bandwidth selection:

Yes

Operating temperature:

-20℃ to +40℃
Transmitter
Power output (Watts):

VHF: 5/2/1 Watts / UHF: 4/2/1 Watts

Work mode:

F2D / F3E

Antenna impedance:

50 Ohm

Frequency stability:

±2.5 PPM

Type of modulation:

Wide: 16K F3E / Narrow: 11K F3E

Max. frequency deviation:

Wide: ±5 kHz / Narrow: ≤±2.5 kHz

Audio response:

300-3000 Hz +1 to -3 dB

Adjacent channel selectivity:

Wide: ≤70 dB / Narrow: ≤60 dB

Spurious:

Wide: ≤60 dB / Narrow: ≤60 dB

Modulation distortion:

≤5%
Receiver
Audio distortion:

≤5%

Audio power output:

≤500 mW

Audio response:

300-3000 Hz +1 to -3 dB

Adjacent channel selection:

Wide: ≤70 dB / Narrow: ≤60 dB

Inter modulation:

Wide: ≤65 dB / Narrow: ≤60 dB

Signal to noise ratio:

Wide: ≥45 dB / Narrow: ≥40 dB

Spurious radiation:

Wide: ≥70 dB / Narrow: ≥70 dB

Sensitivity:

UHF / VHF : -119.0 dBm SINAD 13 dB

Sensitivity 108 - 136 MHz (AM):

106.0 dbm SINAD 13 dB

Sensitivity 136 - 174 MHz:

119.0 dbm SINAD 13 dB

Sensitivity 216 - 260 MHz:

116.0 dbm SINAD 13 dB

Sensitivity 400 - 480 MHz:

119.0 dbm SINAD 13 dB

Sensitivity 714 - 999 MHz:

96.0 dbm SINAD 12 dB
Mechanical data
Length:

60 mm

Height:

133 mm (without antenna)

Width:

36 mm

Weight:

326 gram (including ANO-057 antenna)

Antenna connector:

SMA male

USB-C charging:

Yes
Inside the box
Transceiver:

Yes

Battery:

Yes, BLO-032 Li-ion Battery Pack (7.4V 3000 mAh)

Charger:

Desk charger with AC adapter (CHA-035A - CHA-035B)

Installation manual:

English

Antenna 66-88 MHz:

Yes, ANO-057, 185 mm

Antenna 136-174 / 400-520 MHz:

Yes, ANO-056, 145 mm

Belt clip:

Yes

Hand strap:

Yes