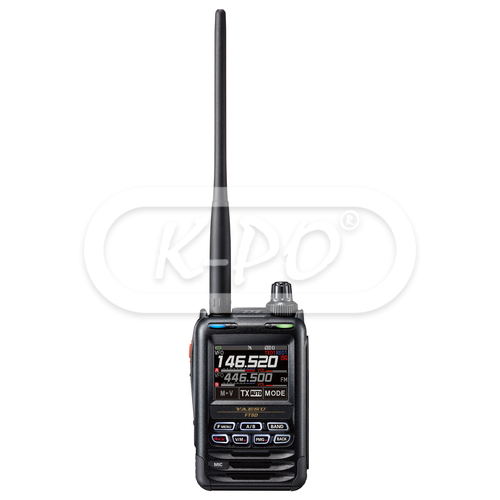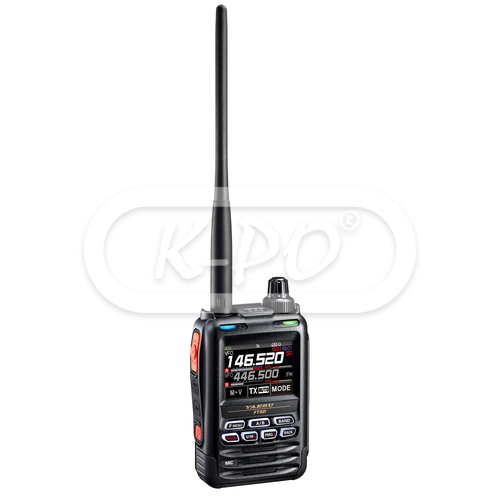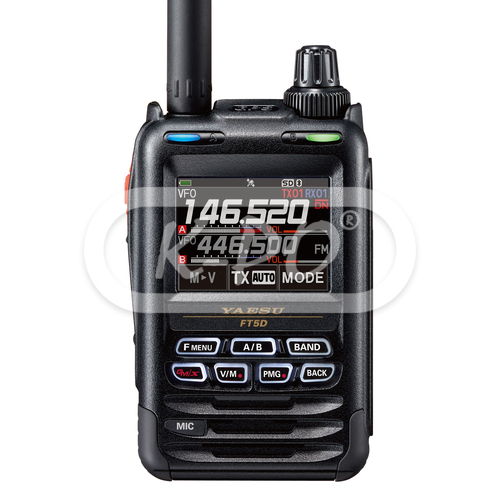 Yaesu - FT-5DE
Product code:
XAH082M005-1E
Factory code:
XAH082M005-1E
The Yaesu FT5-DE is a full-featured C4FM handheld transceiver with superior operability and new sophisticated functions. Even in a compact body 62 x 101 x 34 mm (W x H x D), the FT5-DE provides reliable 5W RF power output and achieves loud 1W audio power that has been tuned for quality audio. Real Dual Band Operations (V+V, U+U, V+U, U+V) are available with two independent receivers. Large individual LED indicators for A band and B band present the status and communication modes (C4FM or Analog) of each band instantly. The new FT5-DE supports simultaneous C4FM digital (C4FM/C4FM standby).
Rugged construction

With rubber protection on the corner of the main body, the FT5-DE has rugged and shock-resistant construction. The waterproof rating is IPx7. The comfortable size and form of the full-flat back body provides excellent grasp for the radio operator.

High-resolution display

A high-resolution display highlights the frequency of the operational band. The color of the operating band frequency can be selected from white, blue or red. Three (3) touch panel keys and seven (7) operation keys below the display offer intuitive operability.

Touch & Go Operation

The new Touch & Go operation is convenient in order to immediately start the communications on an often-used frequency. By pressing and holding the "PMG" key, the frequency of the current display is registered into Primary Memory Group. After registration, pressing the "PMG" key will display the receive status of the registered frequencies as bars on a graph (activity monitor). By simply touching the displayed bar, the user can instantly recall that frequency.
Band Scope

Band Scope function monitors in real time, up to 79 displayed channels that are centered around the current VFO frequency. The center frequency can be tuned by the dial knob or by touching and moving the frequency of a displayed channel bar.

C4FM Digital Clear Voice

The C4FM digital communication features which are already popular in the market, such as: Automatic Mode Select (AMS), Digital Group ID (DG-ID) operation, and Smart Navigation function are available with the new FT5-DE.
WiRES-X

The FT5-DE supports the WiRES-X Portable Digital Node Function as well. A portable digital node can be easily set up with the new FT5-DE, an internet connected laptop PC, and the optional SCU-39 cable kit.

Quick Release Holster

The New Quick Release Holster (SHB-26) is included in the FT5-DE package as a supplied accessory that allows single-touch attaching and detaching the transceiver while wearing the holster on a belt.

Frequency range:
TX: 144-146 / 430-440 MHz,
Shipped next business day
€449.95

(371.86 excl. 21% VAT)
Features
Display:

Yes, LCD display

VOX function:

Yes

DTMF:

Yes

Battery capacity:

Li-ion 2200 mAh (7.2V)

Accessory connector:

1-pin Yeasu connector (Y)

Mode of emission:

F1D / F2D / F3E / F7W

Bluetooth:

Version: 4.2 / Class: 2

Waterproof index:

IPx7

MIC gain:

Yes, 9 levels

VOX function:

Yes

Recording function:

Yes, the received audio of other stations, or the transmit audio can be recorded, and the voice data saved as an audio file on the microSD card (not included)

VFO Band skip function:

Yes

Memory Auto Grouping (MAG):

Yes, the memory auto grouping (MAG) function allows memory channels to be automatically categorized

Wide band reception:

Yes, wide range receive coverage from 0.5-999.99 MHz (A-Band) / 108-580 MHz (B-Band)

Band scope:

Yes

GPS:

Yes, integrated 66 channel GPS receiver

AF Dual simultaneous AM/FM function:

Yes

Data communication:

Yes, 1200/9600bps APR data communication

Snapshot feature:

Yes, the captured images are displayed with full color, and can be sent to other C4FM digital transceivers

MicroSD card slot:

Yes, the radio accepts microSD cards up to 32 GB for storage of GPS logger data, Voice data, Memory back-up, and other useful information
Electrical data
Frequency step:

5 kHz / 6.25 kHz / 8.33 kHz / 9 kHz / 10 kHz / 12.5 kHz / 15 kHz / 20 kHz / 25 kHz / 50 kHz / 100 kHz /

Channels:

900 Memory channels / 99 Skip search memory channels / 11 Home channels / 50 Pairs PMS memory channels / 57 VHF marine radio channels / 89 World wide broadcasts channels

Wide and narrow bandwidth selection:

Yes

Operating temperature:

-20℃ to +60℃

Frequency stability:

±2.5 PPM

Supply voltage (Nominal):

Negative Ground, SBR-14LI: 7.2V DC / Negative Ground, FNB-101LI: 7.4V DC / Negative Ground, EXT DC Jack: 10.5-16V DC

Supply voltage (Operating):

Negative Ground, Li-ion Battery: 5.5-8.4V DC / Negative Ground, EXT DC Jack: 4-16V DC / Negative Ground, EXT DC for Charging: 10.5-16V DC / Negative Ground, FBA-39: 3.6-4.5V DC

Current consumption:

Mono band Receive: 180 mA / Dual band Receive: 220 mA / Mono band Receive, Standby: 110 mA / Dual band Receive, Standby: 145 mA / Mono band Receive, Standby, Saver on 'Save Ratio 1:10: 74 mA / Dual band Receive, Standby, Saver on 'Save Ratio 1:10: 74 mA / GPS on: +15 mA / Digital on: +3 Ma / AM,FM Radio: 125 mA / Auto Power Off: 600 μA / 144 MHz, 5 Watt, 7.4V: 1.6 A / 430 MHz, 5 Watt, 7.4V: 1.9 A
Transmitter
Power output (Watts):

Li-ion battery - 13.8 Volt: 0.3/1.0/2.5/5.0 Watts / FBA-39: 0.3/0.9 Watts

Spurious Emission:

TX power Low 1, Low 2: ≤ 50 dB / TX power Low 3, HI: ≤ 60 dB

Modulation type:

F1D / F2D / F3E: Variable Reactance Modulation / F7W: 4FSK (C4FM)

Antenna impedance:

50 Ω
Receiver
Sensitivity 0.52-30 MHz:

3 μV typ for 10 dB SINAD (AM) / A-Band only

Sensitivity 30-54 MHz:

0.35 μV typ for 12 dB SINAD (NFM) / A-Band only

Sensitivity 54-76 MHz:

1 μV typ for 12 dB SINAD (NFM) / A-Band only

Sensitivity 76-108 MHz:

1.5 μV typ for 12 dB SINAD (WFM) / A-Band only

Sensitivity 108-137 MHz:

1.5 μV typ for 10 dB SINAD (AM)

Sensitivity 137-140 MHz:

0.2 μV typ for 12 dB SINAD (NFM)

Sensitivity 140-150 MHz:

0.16 μV typ for 12 dB SINAD (NFM)

Sensitivity 150-174 MHz:

0.2 μV typ for 12 dB SINAD (NFM)

Sensitivity 174-222 MHz:

1.0 μV typ for 12 dB SINAD (NFM)

Sensitivity 222-225 MHz:

0.5 μV typ for 12 dB SINAD (NFM)

Sensitivity 300-350 MHz:

0.5 μV typ for 12 dB SINAD (NFM)

Sensitivity 350-400 MHz:

0.2 μV typ for 12 dB SINAD (NFM)

Sensitivity 400-470 MHz:

0.18 μV typ for 12 dB SINAD (NFM)

Sensitivity 470-580 MHz:

1.5 μV typ for 12 dB SINAD (NFM)

Sensitivity 580-800 MHz:

3.0 μV typ for 12 dB SINAD (NFM) / A-Band only

Sensitivity 800-999 MHz:

1.5 μV typ for 12 dB SINAD (NFM) / A-Band only

Digital Mode:

0.19 μV typ for BER 1%

Intermediate frequency 1st:

A-Band: 58.05 MHz / B-Band: 57.15 MHz

Intermediate frequency 2nd:

A-Band: 450 kHz / B-Band: 450 kHz

Receiving system AM, NFM:

Dual conversion superheterodyne

Receiving system AM, FM radio:

Direct conversion

Audio power output (Internal speaker):

1000 mW (8 Ω, THD10%, 7.4 V)

Audio power output (External speaker):

500 mW (8 Ω, THD10%, 7.4 V)

Selectivity (-6 dB/-60 dB):

NFM / AM: 12 kHz / 35 kHz
Mechanical data
Length:

34 mm

Height:

100 mm

Width:

62 mm

Weight:

282 gram

Antenna connector:

SMA

Housing:

Rugged construction with full fledged robust construction that protects the front and LCD with silicone rubber, and rubber protection on the bottom and sides of the main body
Inside the box
Transceiver:

Yes

Battery:

Yes, SBR-14LI Li-ion Battery Pack (7.2V 2200mAh)

Charger:

Yes, Battery charger SAD-25C

Antenna:

Yes

Installation manual:

English

Quick release holster:

Yes, SHB-26BK

Belt clip:

Yes, SHB-13

USB cable:

Yes