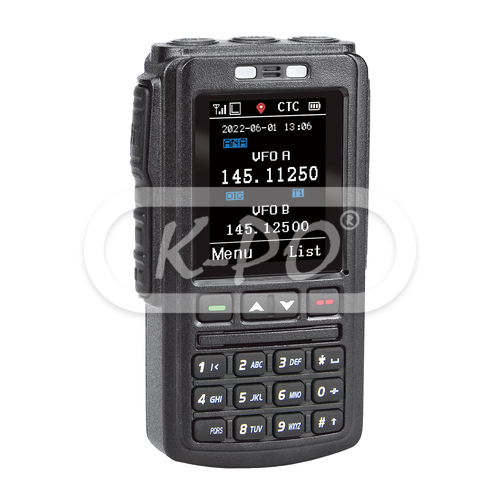 AnyTone - BT-01
Expected in the week of 12 December 2022.

The AnyTone BT-01 remote control Bluetooth speaker microphone gives you full control over your AnyTone AT-D578UV radio. The AnyTone BT-01 has a large and clear 2.2 inch display and a front speaker for clear audio.
Can be connected wirelessly via Bluetooth with a range of around 10 meter or with the supplied 4.0 meter long remote control cable directly to your AnyTone AT-D578UV.
It can be charged with the supplied UCB-C type charging cable (5V USB main charger not included) or when the remote cable is connected it will charge automatically.
Please note that earlier versions of the AnyTone AT-D578UV maybe need a Bluetooth firmware update. The Bluetooth version of your AnyTone AT-D578UV should be at least V10043 or higher. The Bluetooth update procedure is available on request and only for customers that purchased the AnyTone BT-01 with us.
Note - Price on request
Features
Suitable for:

AnyTone AT-D578UV Plus / AnyTone AT-D578UV III PLUS / AnyTone AT-D578UV PRO / AnyTone AT-D578UV III PRO /

Volume control:

Yes

Bluetooth:

Yes

Bluetooth version:

V4.2 +EDR

Protocol:

HFP / HSP / A2DP / AVRCP / SPP

Noise reduction:

Yes, for TX and RX

Program:

Yes, P1 - P3 programmable
Electrical data
Sensitivity:

-80 dBm

Audio performance:

SBC Decoding

Transmission power:

Class 2 / 4 dbm

Transmit distance:

± 10 meters
Mechanical data
Display:

LCD 2.2 inch

Length:

109 mm

Height:

28 mm

Width:

62 mm

Weight:

137 gram

Accessory connector:

USB C type

Operating temperature range:

-20 to 55 °C

Speaker:

2 Watt / 8 Ohm

Charging:

5 Volt / USB C type

Interface:

3.5 mm

Battery:

1800 mAh / 3.7 Volt
Inside the box
AnyTone BT-01: Yes
Belt clip: Yes
Remote cable: Yes, 4 meter

USB-C type charging cable: Yes (5V USB main charger not included)

User manual: Yes