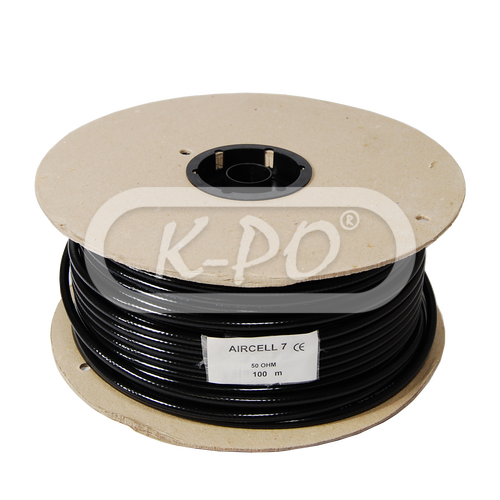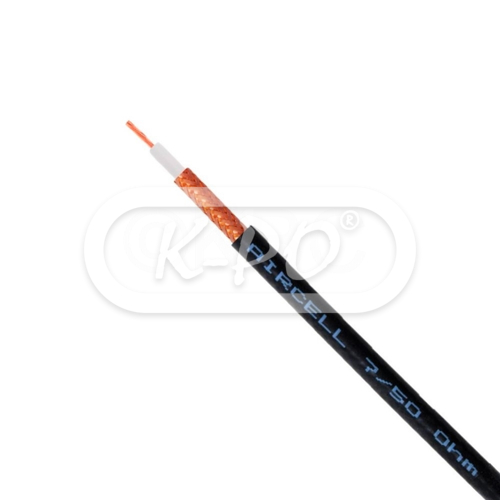 SSB - Aircell 7
Aircell 7 is a highly flexible coaxial cable for the frequency range up to 6 GHz. The very low damping in relation to the diameter and the small bending radius make the application interesting and recommendable for many applications in high-frequency technology.

The low attenuation of Aircell 7 is achieved by a low-loss PE-LLC dielectric with a gas content of over 70%. The material is also resistant to moisture. The inner conductor, a 19-conductor strand of low-oxygen copper, allows the extraordinary flexibility of the cable. To achieve good attenuation, the Aircell 7 outer conductor is double-layered: on a thin, overlapping copper foil, a copper shielding braid with a degree of coverage of 85% is applied. The film is PE-coated on the inside and thus protected against cracking if the bending radius is too small. The black PVC outer jacket of Aircell 7 is UV-stabilized. Aircell 7 is a modern and widely used coaxial cable for numerous applications: it is extremely flexible, low-attenuation and anti-radiation.
With CPR/ECA classification.
102 meter on roll.
Out of stock - Longer delivery time
€395.95

(327.23 excl. 21% VAT)
Features
Low density polyethylene dielectric:

ø 5.0 mm

Sheath color:

Black PVC

Cable weight:

7.2 kg (100m)

Impedance:

50 Ohm

Capacitance:

75 pF/m

Velocity ratio:

0.83

Temperature range:

-30°C to +80°C

Outer conductor 1:

Copperfoil, PE coated

Shielding factor 1:

100%

Outer conductor 2:

Copper braid

Shielding factor 2:

70%

Outer diameter:

ø 7.3 mm
Attenuations dB/100m

5 MHz:

1.6 dB

10 MHz:

2.2 dB

50 MHz:

4.52 dB

100 MHz:

6.28 dB

144 MHz:

7.6 dB

200 MHz:

9.04 dB

300 MHz:

11.2 dB

432 MHz:

13.6 dB

500 MHz:

14.72 dB

800 MHz:

19.0 dB

1000 MHz:

21.52 dB

1296 MHz:

24.84 dB

1500 MHz:

27.08 dB

1800 MHz:

30.0 dB

2000 MHz:

31.88 dB

2400 MHz:

35.6 dB

3000 MHz:

40.88 dB

4000 MHz:

49.12 dB

5000 MHz:

57.04 dB

6000 MHz:

64.9 dB