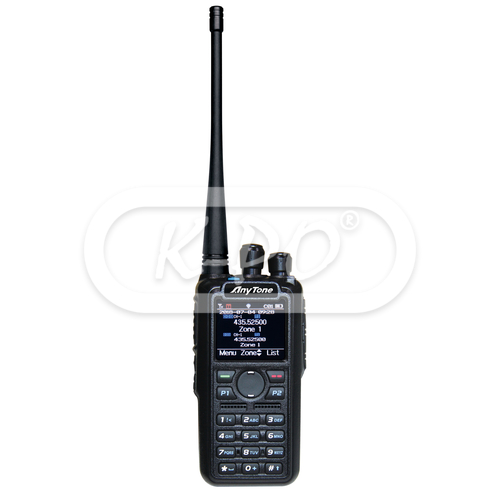 AnyTone - AT-D878UVII Plus
Updated version of the popular AnyTone AT-D878UV Plus. Now with Analog APRS RX and 500.000 digital contacts.

AnyTone D878UVII Plus digital DMR dual-band handheld commercial radio with roaming and GPS VHF/UHF dual-band digital/analog part 90 DMR commercial transceiver with 1.77 inch color TFT display and GPS. New D878 model includes DMR roaming, faster processor and larger memory for future enhancements. Ideal for fire, search & rescue, EMS, police, sheriff,forestry and security operations. Frequency coverage 144-146 / 430-440 MHz. Including USB programming cable.
Please note that the firmware/CPS of the AT-D878UV can not be used for the AT-D878UV PLUS and AT-D878UVII Plus. Using wrong firmware/CPS can damage your radio!
Frequency range:
TX/RX: 144-146 MHz / 430-440 MHz
Out of stock - Longer delivery time
€239.94

(198.3 excl. 21% VAT)
Features
True-2-slot:

Yes

Display:

Yes, LCD color display

Bandwidth:

2.5 - 25 kHz

VOX function:

Yes

DTMF:

Yes

2-tone/5-tone:

Yes

Ranging function:

Yes

Emergency (SOS) function:

Yes

High/low power selection:

Yes
Electrical data
Frequency step:

12.5 kHz / 25 kHz /

Channels:

4000 + VFO; 10,000 Talk groups with 500,000 digital contacts

Wide and narrow bandwidth selection:

Yes

Phase-locked Step:

5 and 6.25 kHz

Operating temperature:

-20℃ to +55℃

Operating voltage:

7.4 Volt, DC ± 20% / (2100 mAh/ 3100 mAh)
Transmitter
Power output (Watts):

VHF: 1/2.5/5/7 Watts / UHF: 1/2.5/5/6 Watts

Modulation limit:

± 5.0 kHz @ 25 kHz / ± 2.5 kHz @ 12.5 kHz

Adjacent channel power:

Wide: ≥ 70 dB / Narrow: ≥ 60 dB

Spurious Emission:

Wide: ≤ -36 dB / Narrow: ≤ -36 dB

Audio distortion:

≤ 5%

Frequency stability:

± 2.5 PPM

Hum & noise:

Wide: ≥ 40 dB / Narrow: ≥ 36 dB

Error rate:

≤ 3%

4FSK Digital modulation:

7K60FXD: 12.5 kHz (data) / 7K60FXE: 12.5 kHz (data+voice)
Receiver
Sensitivity:

Wide: ≤0.25 μV / Narrow: ≤0.35 μV

Digital sensitivity:

Wide: 0.3 uV/-117.4 dBm (BER 5%) / Narrow: 0.7 uV/-110 dBm (BER 1%)

Spurious emission:

Wide: ≤ -57 dB / Narrow: ≤ -57 dB

Spurious rejection:

Wide: ≥ 70 dB / Narrow: ≥ 70 dB

Blocking:

84 db

Hum & noise:

Wide: ≥ 45 dB / Narrow: ≥ 40 dB

Audio distortion:

≤5%

Audio power output:

1000 mW / 16Ω

Adjacent channel selectivity:

Wide: ≥ 70 dB / Narrow: ≥ 60 dB
Mechanical data
Length:

42 mm

Height:

129 mm

Width:

61 mm

Weight:

293 gram

Antenna connector:

SMA
Inside the box
Transceiver:

Yes

Battery:

3100 mAh Li-ion battery pack

Charger:

Desk charger with AC adapter (QBC-45L - QPS-17)

Antenna:

Yes

USB program cable:

Yes

Installation manual:

English

Belt clip:

Yes, BC-05