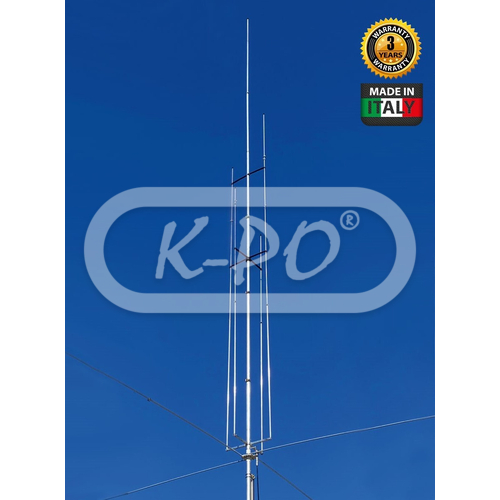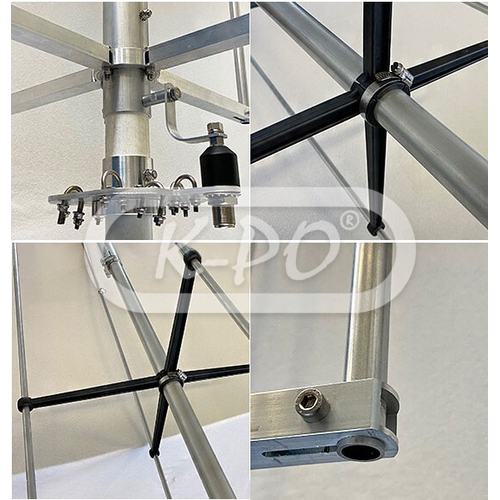 Grazioli - MV6
The Grazioli MV6 is a vertical multi-band 1/4 λ Ground Plane base-fed antenna for the following HAM bands: 20, 17, 15 12, 10 and 6 meter.
Extremely robust construction in AW6063-T66 aluminum alloy and CNC machined parts from solid stock. Supplied with high-quality 304 and 316 stainless steel fasteners for long rust-free operating life. High input power, up to 3 kW continuous All-mode. Detailed assembly manual and serial number that identifies the production batch and construction data.
The stylus consists of a central radiator for the lower 20m band flanked by 4 side stubs resonating on the higher 17, 15, 12, 10 + VHF 6m bands. The side stubs are 1/4 λ without traps that would reduce their efficiency. The antenna is fed directly without the use of impedance adapters or transformers, which would introduce losses and limit the applicable power, and is equipped with a high-impedance inductance that creates a DC short circuit, grounding any disturbances caused by atmospheric events and/or electrostatic discharges. Calibration is done by adjusting the telescoping parts of the stubs and the central stylus, each frequency is independent and does not affect the other bands, except for the 17m band, which also determines the resonance of the 6m band: We recommend the use of a graphic antenna analyzer such as RigExpert, which makes calibration much easier.
The MV6 connector is not a commercial SO-239 type connector as most manufacturers use. The connector was designed and built directly by us, has a real impedance of 50 Ohms and can be used up to 500 MHz. The goal was to create a reliable connector capable of withstanding 5kW CW continuous at 30 MHz. The body is made of CW614N nickel-plated brass, while the pin is plated in 24K gold to avoid oxidation and equipped with a 4-fin insulator that maintains its centering and elasticity, avoiding contact losses. The insulating part is made of PTFE which is one of the best insulating materials.
The fixing bracket is made of 2.5mm thick AISI304 stainless steel, it is fixed to the antenna tube by means of a clamp closure system, creating an extremely strong mechanical locking. Fixing to the mast is made with AISI304 M6 V-Bolt and high type nuts to facilitate tightening.

Frequency range:
14 / 18 / 21 / 24 / 28 / 50 MHz
Shipped next business day - Stock: 5
€440.95

(364.42 excl. 21% VAT)
Electrical data
Electrical type:

1/4 λ Ground Plane with parallel stub

Gain:

0 dBd - 2.15 dBi

VSWR:

<1.5:1

Maximum continuous power:

3000 Watts (CW)

Impedance:

50 Ohm

Polarization:

Linear vertical
Mechanical data
Materials:

Aluminnum Alloy AW6063-T66 hard drawn tube, Fiberglass, Brass, PTFE. All hardware are made of SS AISI-304 and 316

Mast Ø:

40 - 54 mm

Max wind resistance:

130 km/h

Height:

6750 mm (including bracket)

Weight:

7800 gram

Mounting type:

On mast

Antenna connector:

UHF-female, PTFE insulator & gold plated central pin

Stylus length:

6200 mm

Radial length:

2700 mm
Inside the box
Antenna:

Yes

Mounting parts:

Yes

Installation manual:

English, Italian