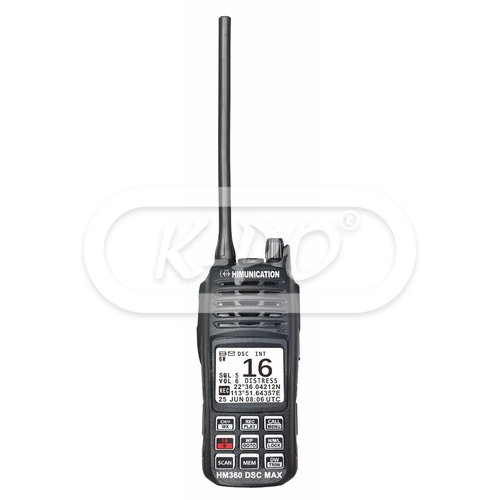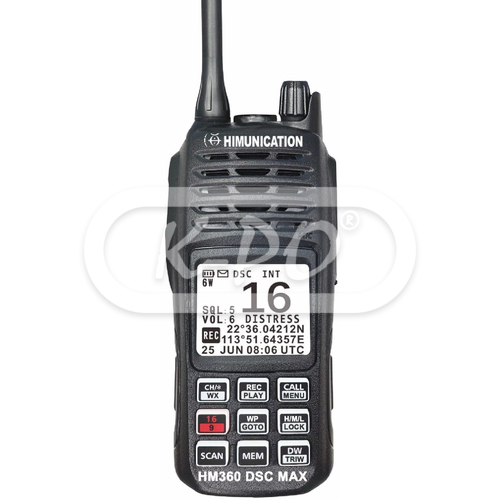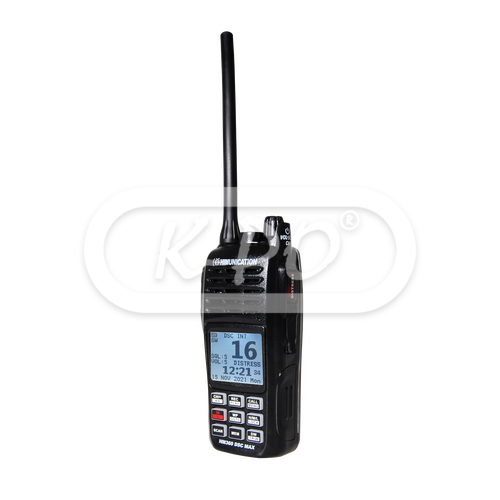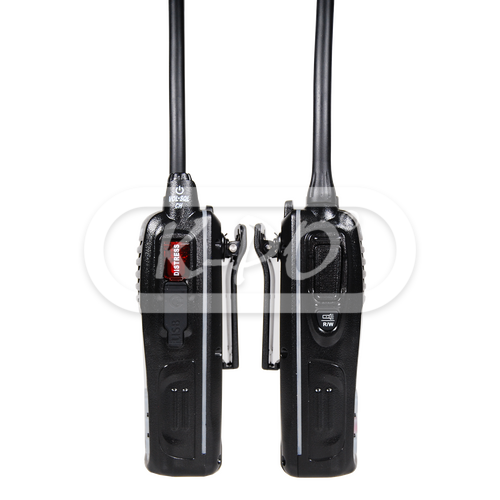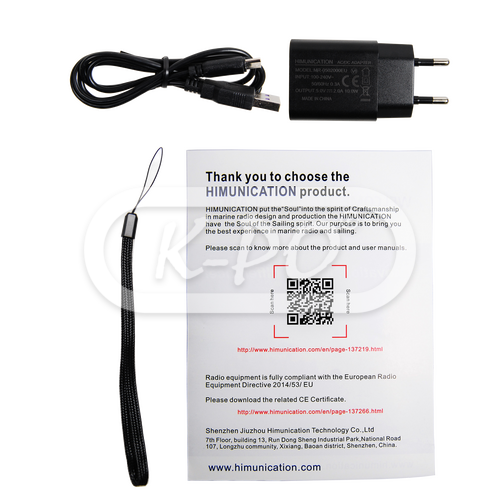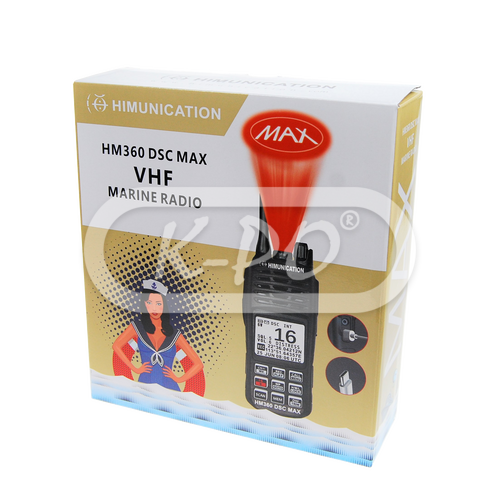 Himunication - HM360 MAX DCS/GPS (ATIS)
Channels conform VDES (VHF Data Exchange System), International standard. Including private channels 31 + 37 for Belgian and Dutch users.
The Himunication HM360 MAX with DSC, GPS and ATIS is a high-end and Himunication' new top handheld VHF marine radio for semi- and professional use. On the new white backlit dot matrix LCD display you can clearly read off all information that you need.
With a built-in class-H DSC function and integrated GNSS (GPS) receiver. Long stand-by time of more than 10 hours. With USB-C charging system and a 4000 mAh integrated battery pack.
With features like float and flash, MOB (man-overboard), dual- and tri watch, marine torch (red & white), WDT (Water Displacement Technology), record voice function (60 seconds) and more makes the HM360 MAX one of the best semi- and professional handheld VHF marine radios in the market.
Frequency range:
TX: 156.025 - 162.425 MHz / RX: 156.050 - 163.275 MHz
Shipped next business day
€299.95

(247.89 excl. 21% VAT)
Features
Float and flash:

Yes

Channel 31:

Yes

16/9 channel switch:

Yes

Private channel facility:

Yes

Dual and tri watch:

Yes

Display:

Dot-Matrix LCD white backlit

Priority channel scan:

Yes

High/low power selection:

Yes

MOB alert (man overboard):

Yes

DSC:

Class-H

GNSS (GPS):

Yes, intergrated

Distress key:

Yes

WDT (Water Displacement Technology) / Quake Water:

Yes

ATIS:

Yes, one-time programmable by keypad

Stand-by time:

10+ hours

Voice record function & loop play:

Yes, 60 seconds

Key lock:

Yes

Marine torch:

Yes, red & white

Scan function:

Yes

Memory channels:

Yes

Time out timer:

Yes, after 5 minutes TX

Power save mode:

Yes
Electrical data
Channels:

Conform VDES (VHF Data Exchange System) including private channels 31 + 37

Operating temperature (Celsius):

-15 to +55 °C

Battery lifetime:

10+ hours (TX 5% / RX 5% / stand-by 90%)
Transmitter
Power output (Watts):

6 / 3 / 1 Watts

Channel spacing:

25 KHz

Oscillate mode:

PLL

Normal working voltage:

3.7V

Low limit working voltage:

3V

Built-in speaker:

40 mm, 8 Ohm

Memory:

EEPROM
Mechanical data
Length:

155 mm

Height:

40 mm

Width:

60 mm

Weight:

287 gram

Antenna connector:

SMA
Inside the box
Transceiver:

Yes

Battery:

Li-Polymer 4000 mAh

Charger:

AC 240V / DC 5V wall adapter / USB-C

Wrist strap:

Yes

Installation manual:

English (digital download)

Hi-gain flexible antenna:

Yes

Belt clip:

Yes

USB-C cable:

Yes

USB-C wall charger:

Yes