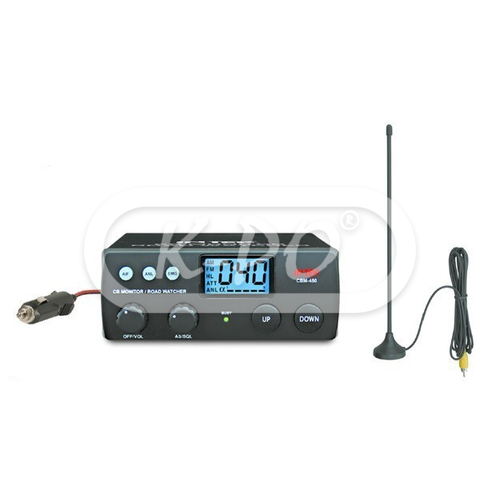 Intek - CBM-450
CB Monitor (receiver), comes complete with a quick-mount CB Magnet Antenna and with a 12V Car Lighter Adaptor. No installation is required, radio can be used immediately after purchase. 8 bands programmable for use in every European country, AM/FM mode,receives all CB channels. EMG key for immediate access to CH9/CH19 which are the channels used by all truck drivers. OFF-ON/Volume control and AS/SQL for manual or automatic (fixed) squelch control. UP/Down knobs for slow or fast channel selection. ANL (Automatic Noise Limiter) to cut pulse noise from motorcycles or car engines. Wide blue color backlighted LCD display, shows channel number, band ID and other enabled functions. Digital S-Meter shows strength of received signal. Very user friendly operation. Built-in 3W speaker for clear strong audio. Backlighted function keys.
Shipped today
€39.95

(33.02 excl. 21% VAT)
Inside the box
Transceiver:

Yes

Antenna:

Magnet Mount Antenna with 30cm Whip and 4 meter cable

12V Car Lighter Adaptor:

1 pcs
Features
EMG key::

Yes

8 Bands programmable::

Yes (all European countries)

Automatic noise limiter:

Yes

AS/SQL::

Yes (manual or automatic)

UP/Down keys:

Yes
Mechanical data
Length:

114 mm

Height:

45 mm

Width:

165 mm

Weight:

400 gramm

Antenna connector:

RF connector

External Jacks:

EXT (external speaker) jack.