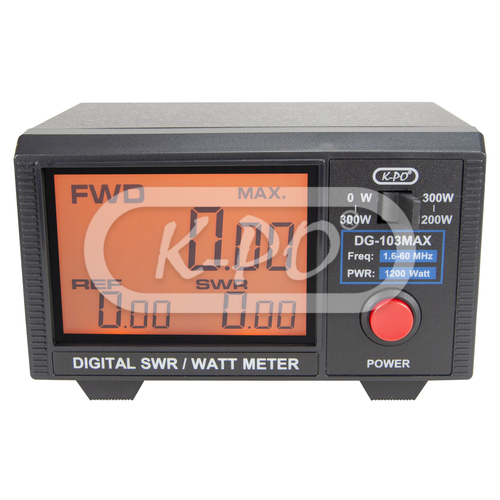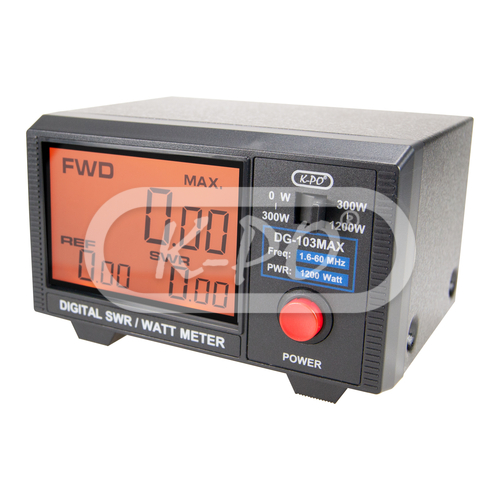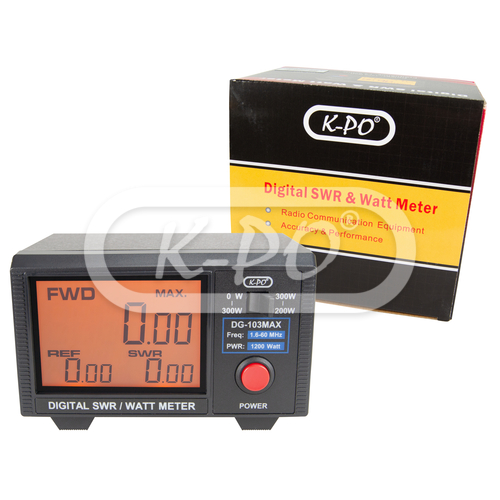 K-PO - DG-103MAX
Asked for by many and now added, the new K-PO DG-103MAX can now officially measure PEP on AM and SSB, just like traditional analogue meters.
On the backside of the meter is an extra 'MAX' mode switch which allows you to measure PEP (AM and SSB).
The DG-103MAX is designed to operate between 1.6 to 60 MHz with a maximum power handling of 1200 Watts. Very accurate HF meter with 5% power accuracy between 1.6 to 30 MHz.
To measure Forward Power, Reflected Power and the VSWR of analogue and digital transceivers.
All can be read out simultaneously on the large, clear and bright digital display of the DG-103MAX.

Made by Nissei, Taiwan.
Frequency range:
1.6 - 60 MHz
Shipped today
€199.95

(165.25 excl. 21% VAT)
Electrical data
Backlight display / meter:

Yes, LCD display

Impedance:

50 Ohm

Power range:

300 mW - 300 Watts / 300 - 1200 Watts

Accuracy:

± 5%

Minimum Power for SWR:

300 mW

Insertion loss:

Less than 0.1 dB

Testing function:

SWR and Power (FWD and REF)

Voltage:

13.8 Volt

Measurement (Analog mode):

CW / FM / FDMA

Measurement (MAX mode):

AM / SSB

Calibration point:

14 / 50 MHz
Mechanical data
Input connector:

UHF (PL) female

Output connector:

UHF (PL) female

Length:

140 mm

Height:

84 mm

Width:

122 mm

Weight:

750 gram
Inside the box
Meter:

Yes

DC power cable:

Yes

Installation manual:

English