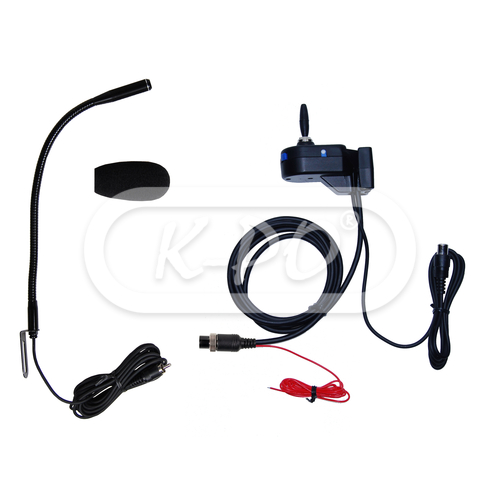 K-PO - MS-5 President
The K-PO MS-5 President is a professional and high quality semi-handsfree Gooseneck microphone with a toggle switch for use with President CB radios that use the DNC 520 or DNC 520 U/D microphone.
With the toggle switch you can put your CB radio in TX or RX. Up and down function is not working on the MS-5 President version. Mostly used in trucks, construction and agricultural machinery.

Can be installed in two ways:
Standard installation: installation like a normal microphone with the supplied accessories.
Switch wire installation: use the red wire as a switch wire and connect it to an existing joystick button or optional foot pedal.
The red wire needs to be connected to a 12 Volt power source. Contact us for the installation details.

Always check carefully if your CB radio is suitable with the K-PO MS-5 Gooseneck microphone of your choice.
Shipped today - Stock: 4
€99.95

(82.6 excl. 21% VAT)
Features
Suitable for:

President Andy / President Barry ASC / President Barry II ASC / President Bill ASC / President Bill II ASC / President Grant II ASC / President Harrison II ASC / President Harry ASC / President Harry II ASC / President Harry III ASC / President Henry ASC / President Jackson II / President JFK II / President Jimmy II ASC / President Johnny ASC / President Johnny II / President Johnny III / President Johnson II / President Johnson II VOX / President Lincoln II ASC / President Lincoln II + / President Martin ASC / President MC Kinley / President Richard / President Ronald / President Taylor II Classic / President Taylor III ASC / President Taylor IV ASC / President Tommy / President Truman / President Walker / President Walker II ASC / President George II ASC /

Gooseneck microphone:

Yes

Input Voltage:

12 V

Microphone type:

Handsfree microphone