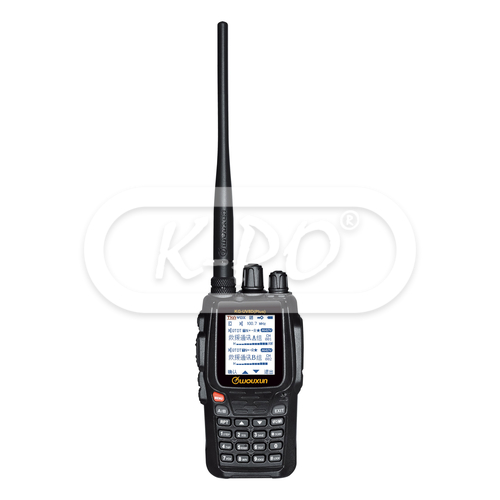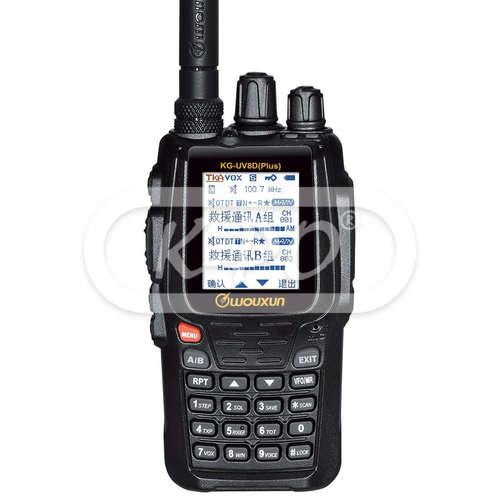 Wouxun - KG-UV8D Plus
Duplex Work Mode and Dual Receiving
It can TX on one area while RX on the other area simultaneously , other, RX on the same or different bands of A&B areas simultaneously.

Cross Band Repeater
Frequency offset and direction programmable in repeater Mode UHF/VHF or VHF/UHF cross-band repeater.

Voice Encryption and Non-Standard CTCSS/DCS
CTCSS or DCS create a secret channel between radios , non-standard ctcss or dcs is stronger version , voice encryption function use password encrypt voice data.

Some Improve Functions
Voice compander , backlight intensity can be adjusted , FM radio can be stored and retrieved 20 sets of frequency , power-on message editable.
Frequency range:
TX/RX: 144-146 / 430-440 MHz
Out of stock - Longer delivery time
€134.95

(111.53 excl. 21% VAT)
Features
Display:

Yes,large color display

VOX function:

Yes

DTMF:

Yes, decoding and encoding

Crossband repeater function:

Yes

Emergency (SOS) function:

Yes

Flashlight:

Yes

Priority channel scan:

Yes

High/low power selection:

Yes

Voice guide:

English and Chinese

Calls:

Yes, group and selective calls

Single-tone pulse frequency:

1000 - 1450 - 1750 - 2100 Hz

QT/DQT:

Yes, decoding, encoding and scan

Program:

Yes, by computer

Stopwatch:

Yes

Reverse frequency:

Yes

Remote alarm:

Yes
Electrical data
Frequency step:

5 kHz / 6.25 kHz / 10 kHz / 12.5 kHz / 25 kHz / 50 kHz / 100 kHz /

Channels:

999

Wide and narrow bandwidth selection:

Yes

Operating temperature:

-20℃ to +40℃
Transmitter
Power output (Watts):

VHF: 1-5 Watts / UHF: 1-4 Watts

Work mode:

F2D / F3E

Antenna impedance:

50 Ohm

Frequency stability:

±2.5 PPM

Type of modulation:

Wide: 16K F3E / Narrow: 11K F3E

Max. frequency deviation:

Wide: ±5 KHz / Narrow: ≤±2.5 KHz

Audio response:

Wide: 300-3000 Hz +1 to -3 dB / Narrow: 300-2550 Hz +1 to -3 dB

Adjacent channel selectivity:

Wide: ≤70 dB / Narrow: ≤60 dB

Spurious:

Wide: ≤60 dB / Narrow: ≤60 dB

Modulation distortion:

≤5%
Receiver
Audio distortion:

≤5%

Audio power output:

≤500 mW

Sensitivity (12dB SINAD):

0.25 µV

Audio response:

300-3000 Hz +1 to -3 dB

Adjacent channel selection:

Wide: ≤70 dB / Narrow: ≤60 dB

Inter modulation:

Wide: ≤65 dB / Narrow: ≤60 dB

Signal to noise ratio:

Wide: ≥45 dB / Narrow: ≥40 dB

Spurious radiation:

≥60 dB
Mechanical data
Length:

62 mm

Height:

125 mm

Width:

34 mm

Weight:

490 gram

Antenna connector:

SMA female
Inside the box
Transceiver:

Yes

Battery:

Li-Ion 2600 mAh

Charger:

Desk charger with adapter and 12 V car charger

Antenna:

Yes

Installation manual:

English

Belt clip:

Yes

Hand strap:

Yes