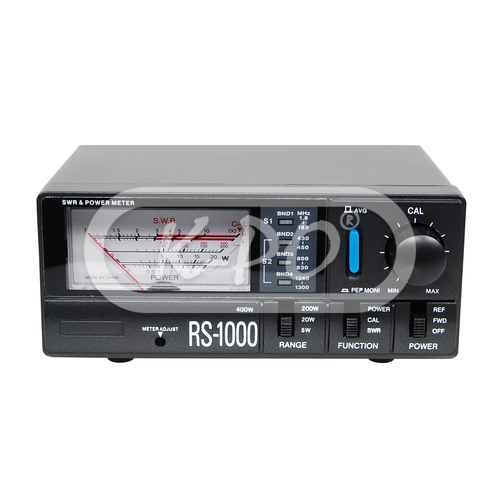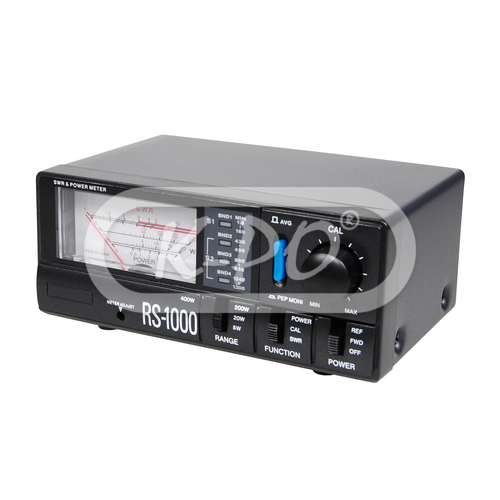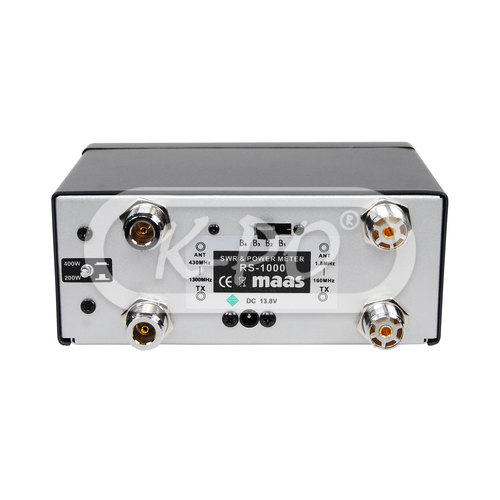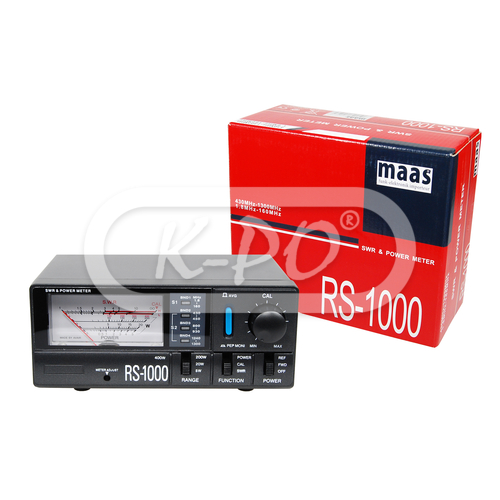 Maas - RS-1000
The Maas RS-1000 is the most fully equipped model in this series. It measures Forward Power, Reflected Power and SWR. Two frequency modes, S1: 1.8 - 160 and S2: 430 - 450 MHz / 800 - 930 MHz / 1240 - 1300 MHz, each with their own set of connectors on the backside. The meter automatic recognizes the frequency range in S2 mode.

The meter has 1x UHF-female input connector and 1x UHF-female output connector for S1 mode and 1x N-female input connector and 1x N-female output connector for S2 mode.
It's compact size makes this meter useful for testing both base and mobile installations and for permanent installation in your setup.
Frequency range:
1.8 - 160 / 430 - 450 / 800 - 930 / 1240 - 1300 MHz
Shipped next business day - Stock: 3
€119.95

(99.13 excl. 21% VAT)
Electrical data
Backlight display / meter:

Yes

Impedance:

50 Ohm

Power range:

1.8 - 160 MHz: 5 / 20 / 200 / 400 Watts / 430 - 1300 MHz: 200 Watts

Accuracy:

5 Watts: ± 5%, / 20 Watts: ± 7.5% / 200 Watts: ± 10% / 400 Watts: ± 12.5%

Minimum Power for SWR:

0.5 Watt

Insertion loss:

1.8 - 160 MHz: 0.2 dB / 430 - 1300 MHz: 0.3 dB

Testing function:

SWR and Power (FWD and REF / AVG and PEP)

Voltage:

13.8 Volt, for display lightning only

200 / 400 Watt power switch:

Yes, on backside for S1 (1.8 - 160 MHz) mode only

Maximum power handling S1:

400 Watts 25 sec on, 35 sec off

Maximum power handling S2:

200 Watts 25 sec on, 35 sec off
Mechanical data
Input connector:

1.8 - 160 MHz: UHF (PL) female / 430 - 1300 MHz: N female

Output connector:

1.8 - 160 MHz: UHF (PL) female / 430 - 1300 MHz: N female

Length:

150 mm

Height:

65 mm

Width:

100 mm

Weight:

730 gram
Inside the box
Meter:

Yes

DC power cable:

Yes

Installation manual:

English