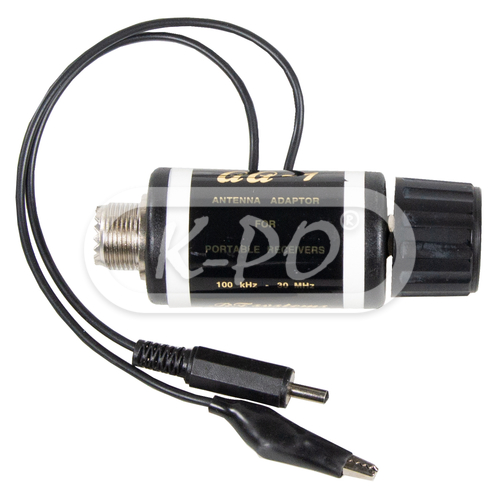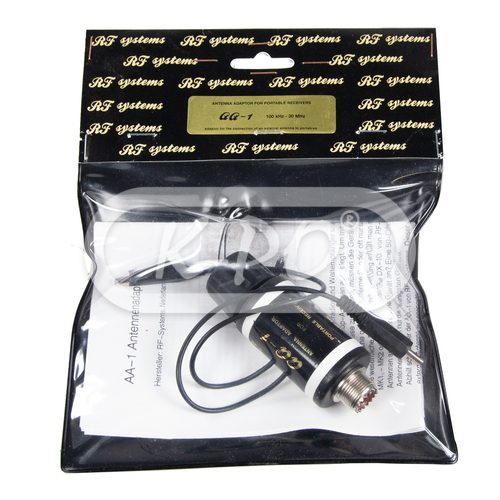 RF Systems - AA-1
The RF Systems AA-1 antenna adapter makes it possible to connect an outdoor antenna to every portable, including those that only have a whip antenna. The AA-1 is a special wideband impedance matching transformer with complete separated antenna and receiver circuits. The frequency range is 100 kHz to 30 MHz. The signal strength improvement with respect to direct connection of a piece of wire to the antenna can be as high as ten times. The signals are transferred by a magnetic field which reduces static and man-made noise.
The AA-1 has an SO-239 jack at one end (accepts a standard PL-259). Plug your external antenna in here. The output is to an alligator (crocodile) clip and a special plug that plugs into the earphone jack of the portable (this will not disengage the receiver's audio).
On the other side of the AA-1 is a signal level adjustment knob (0 db to -50 dB). Turning the knob fully clockwise for maximum signal level. Turn the knob counter-clockwise to reduce overload if needed.
Original RF Systems product.
Shipped today - Stock: 2
€68.95

(56.98 excl. 21% VAT)
Features

Frequency range:

100 kHz - 30 MHz

Signal level adjustment:

0 - 50 dB