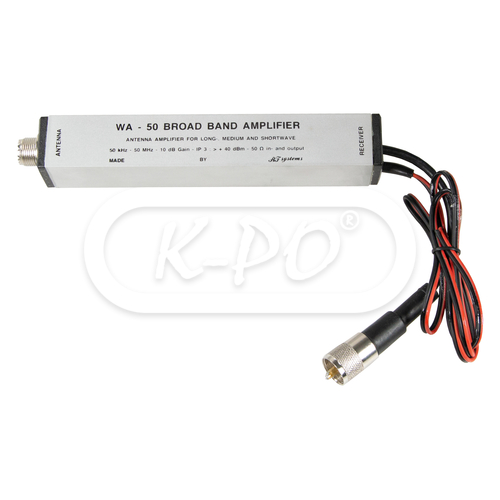 RF Systems - WA-50
The RF Systems WA-50 AC is a high quality broadband amplifier for long, medium and shortwave frequencies with an operating from 50 kHz to 50 MHz. The gain is 10 dB (3 times), sufficient to compensate for low efficiency antennas, but not high enough to create serious overloading problems in most receivers. The WA-50 can handle antenna signals up to 1 Volt, so overloading the amplifier is unlikely. The second order intercept point of +60 dBm and the 3rd order intercept point of +40 dBm are higher than those of most modern receivers. The WA-50 is equipped with a PL-259 output and a standard 50 ohm SO-239 input. The WA-50 input has a galvanic path to ground which allows static charges to flow harmlessly to ground. The WA-50 VAC requires 120 VAC. The size of the case is: 1.25 x 1.25 x 8 inches (30x30x200 mm).

The RF Systems WA-50 DC operates from 10 to 15 VDC (13.2 VDC nominal) with current draw of 150 mA (typical). The DC input is polarity protected and tolerates voltages spikes to 50 volts. It features a 250 mA slow-blow fuse. This DC version is ideal for mobile or field use.
Original RF Systems product.
Shipped today - Stock: 4
€162.94

(134.66 excl. 21% VAT)
Electrical data

Frequency range:

50 kHz - 50 MHz

Operating temperature:

-30℃ to +50℃

Input impedance:

50 Ohm

VSWR:

>1.2:1

Output level:

>+ 20 dBm (2.2 Volt)

Harmonic distorsion:

<0.05% with an outputsignal of 0 dBm at 1.5 MHz

Voltage:

10-15 Volt
Mechanical data

Input connector:

SO 239 / UHF (PL) male

Output connector:

PL 259 / UHF (PL) female

Material:

Aluminium alloy, filled with poly-urethane, completely wheaterproof