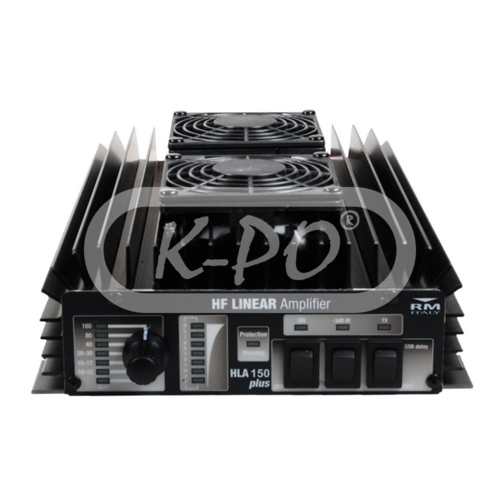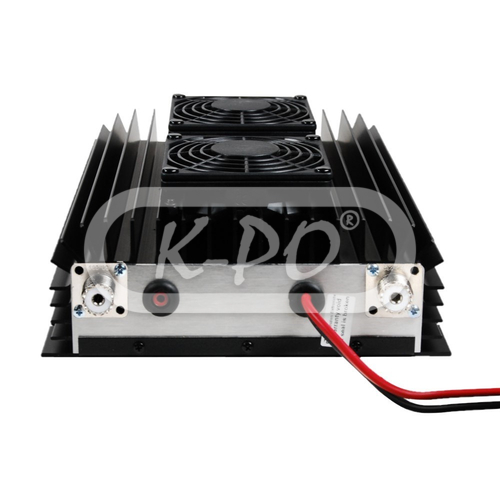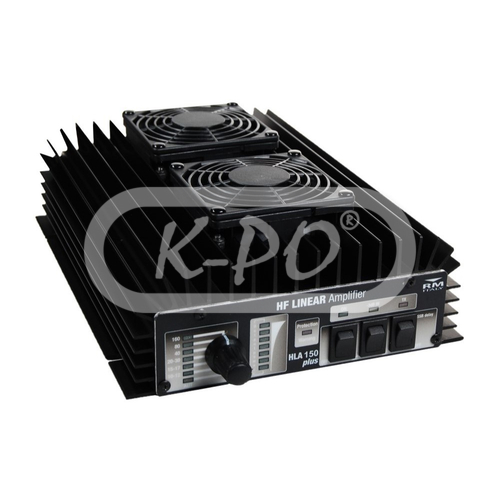 RM - HLA150V Plus
The RM HLA150V Plus 'black line' is a HF broadband linear amplifier with protection against polarity inversion, excessive temperature and excessive R.O.S.*. The max. output power off the amplifier is 150 Watts AM-FM and 250 Watts SSB (PEP) and is equipped with 2 cooling fans.
The amplifier has been designed to be used with transceivers with 10 Watts outputs but can be used equally well with any transceiver capable of producing 1-10 Watts output. It uses 2 RF power transistors in a parallel push pull circuit biased in class AB. There are 6 Low Pass Filters with cut-off frequencies of 3, 4, 5, 8, 15, 22 and 31 MHz that greatly reduce unwanted harmonic output to acceptable levels that may be selected manually or automatically. It features a microprocessor that controls all of the functions of the amplifier and its protection circuits. Protection is provided for excessive input power, excessive load VSWR and excessive heat sink temperature. The amplifier may be used either in a mobile / portable or fixed station installation.
*Protection circuits are not 100% guaranteed. To prevent damage to your amplifier always check your VSWR after changing bands, no hot switching, no excessive input power etc.
Frequency range:
1.8-30 MHz
Shipped today - Stock: 2
€516.95

(427.23 excl. 21% VAT)
Electrical data
Input power (Watts):

1-10 AM-FM / 2-20 SSB-CW

Max output power (Watts):

150 AM-FM

Max output power SSB (Watts):

250 (PEP)

Impedance:

50 Ohm

Max input SWR:

1.1 - 1.5

Fuse:

2x12.5A (Internal: 5x20mm Fast)

Inversion polarity protection:

Yes

Electronic switch:

Yes

Cooling fans:

2

Output power level:

2 (manual or autmatic)

Input energy/power:

24 A

Transistors:

2x M/A Com MRF455
Mechanical data
Input connector:

UHF (PL) female

Output connector:

UHF (PL) female

Length:

191 mm

Height:

66 mm

Width:

290 mm

Weight:

2000 gram

PTT input:

Yes
Inside the box
Amplifier:

Yes

Installation manual:

English