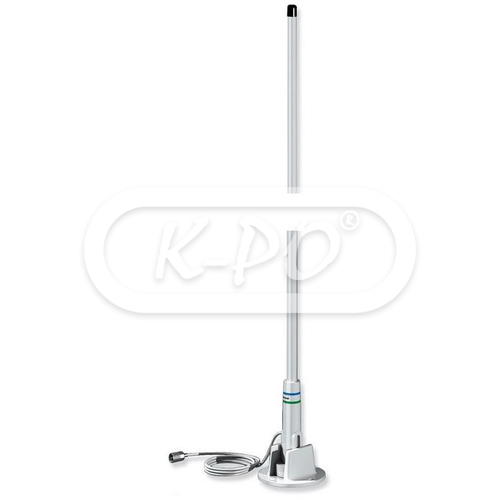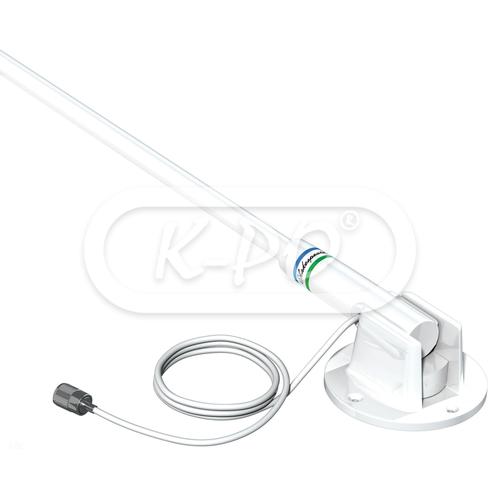 Shakespeare - 4050-B
4050-B Little Giant CB marine antenna, 3' (0.91 meter).
Our compact Classic CB antenna is complete with a built-in Lift-n-Lay mount. This Little Giant is great for bass and other boats where fishing over a 3' antenna is more desirable than greater range. Durability and performance are enhanced by the permanently sealed coil inside pristine white, Shakespeare fiberglass.
Polycarbonate ferrule
Includes 7' cable and a PL-259 connector. The cable cannot be cut, but can be lengthened with extension coax and suitable connectors (sold separately).
Mount: Integral polycarbonate Lift-n-Lay (installation hardware included)
Max. Power Input: 25 watts
SWR Nominally: 2.0:1 or less at Channel 19
Frequency: 27 MHz Citizens Band
DC Grounding: Yes
Shipped today
€74.95

(61.94 excl. 21% VAT)
Electrical data
Electrical type:

1/2 λ

VSWR:

≤ 2.0

Maximum continuous power:

25 Watts

Impedance:

50 Ohm / White RG 58

Polarization:

Linear vertical

Cable:

Yes

Cable length:

2.13 meter / RG 58
Mechanical data
Height:

910 mm

Mounting type:

Deck mount
Inside the box
Antenna:

Yes

Radio connector:

UHF-male

Mounting parts:

Yes

Antenna cable:

Yes

Installation manual:

English