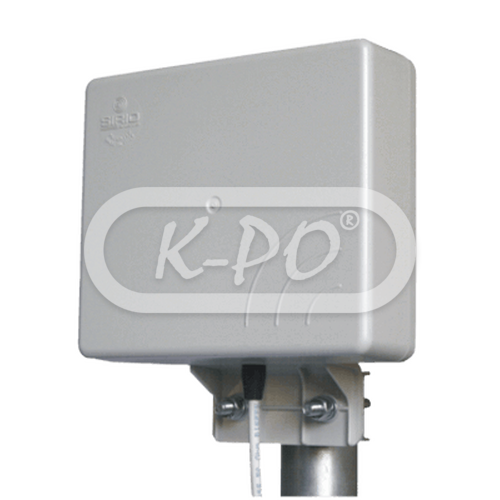 Sirio - SMP 5G LTE Cable 5M
Factory code:
2112203/5SMA
Very compact directional multi-band panel antenna for 698 - 960 MHz, 1.71 - 3.8 GHz for 5G, 4G LTE, W-LAN 2.4 and other bands, no tuning required. The antenna is equipped with 5 meter white low loss cable and SMA male connector.
Easy and quick installation on mast or wall.
Frequency range:
698 - 960 MHz / 1.71 - 3.8 GHz
Out of stock - Longer delivery time
€86.95

(71.86 excl. 21% VAT)
Electrical data
Electrical type:

Mini panel

Gain:

698 - 960 MHz: 4-6 dBi / 1.71 - 2.17 GHz: 9-10 dBi / 2.3-2.7 GHz: 11-12 dBi / 3.3-3.8 GHz: 11-12 dBi

VSWR:

See the product manual under downloads

Maximum continuous power:

698 - 960 MHz: 35 Watts (CW) / 1.71 - 2.17 GHz: 35 Watts (CW) / 2.3 - 2.7 GHz: 25 Watts (CW) / 3.3 - 3.8 GHz: 20 Watts (CW)

Impedance:

50 Ohm

Polarization:

Linear vertical

Cable:

Yes

Cable length:

5 meter / White low loss
Mechanical data
Materials:

Galvanized steel, Thermoplastic UV stabilized, PCB

Mast Ø:

25 - 42 mm

Max wind resistance:

180 km/h

Length:

154 mm

Height:

134 mm (170 mm including mounting base)

Width:

46 mm (66 mm including mounting base)

Weight:

400 gram

Mounting type:

On mast, on wall
Inside the box
Antenna:

Yes

Radio connector:

SMA-male

Mounting parts:

Yes

Antenna cable:

Yes

Installation manual:

English