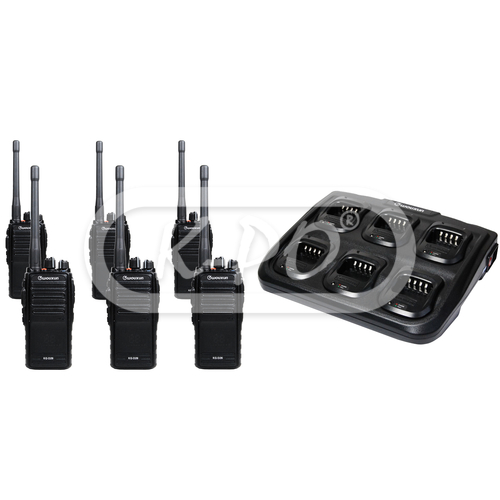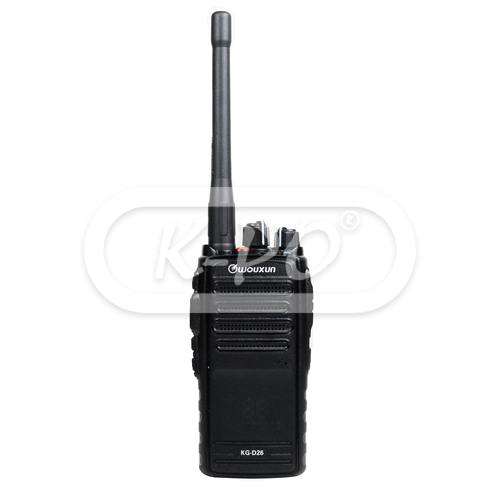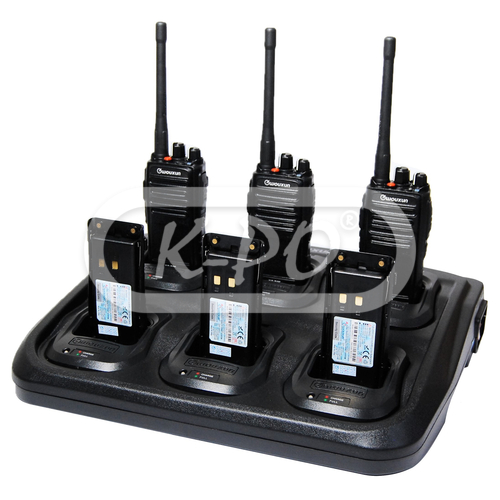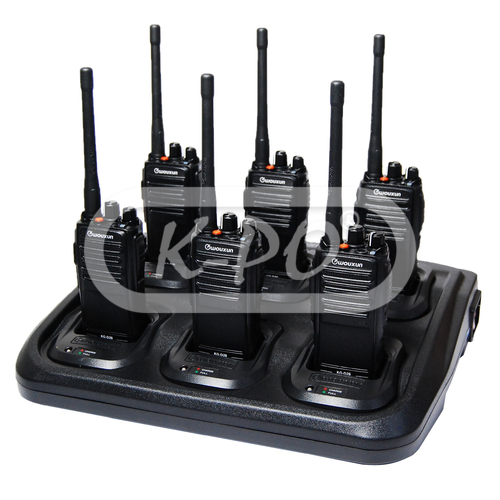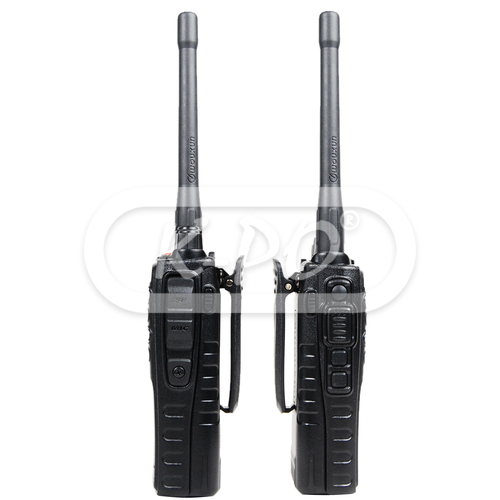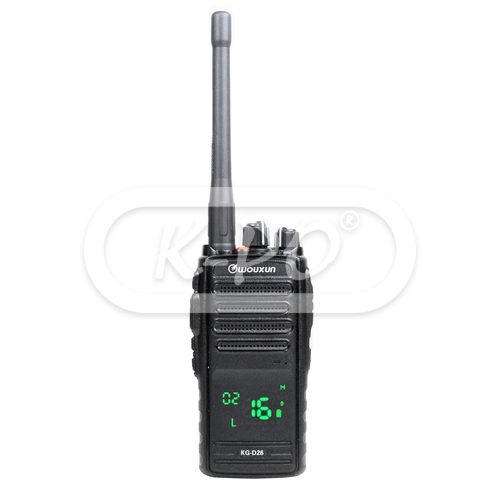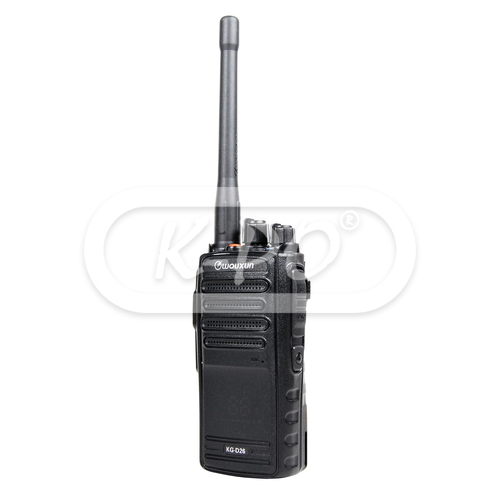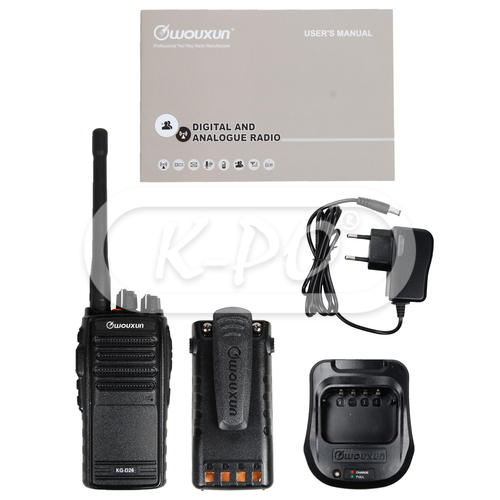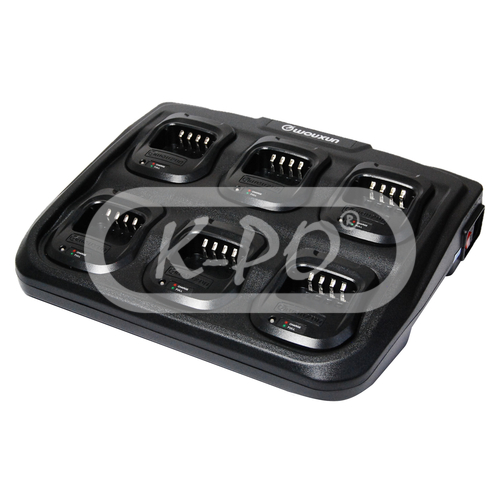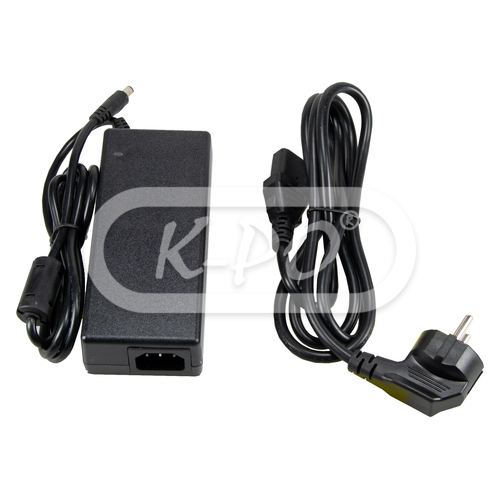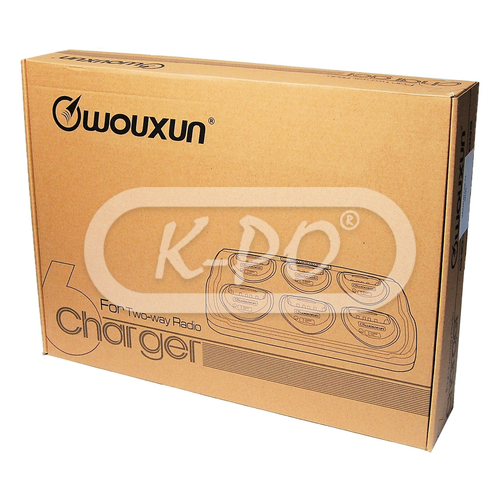 Wouxun - KG-D26 Energy package
The Wouxun KG-D26 Energy package is a set with 6 radios and an 6 way charger.

The Wouxun KG-D26 dPMR is fully compatible, analog and digital, with the Kenwood TK-3401D, TK-3601D and TK-3701D series. The hidden display is integrated in the strong radio body, which prevent it from damaging. It will clearly show you the: Channel number, Analogue / digital mode, Current zone, High / low power,Narrow / wide bandwidth, Battery status, Signal status, VOX indicator, DCS/CTCSS indicator and Time slot 1 / 2 indicator.

Frequency range:
446.0 - 446.2 MHz
Note - Price on request
Features
Number of channels:

16

Number of zones:

99 programmable (3 zones preprogrammed)

Output power:

0.5 / 6 Watt

Channel spacing analogue:

12.5 kHz

Channel spacing digital:

6.25 kHz

Call alert:

Yes

Key lock:

Yes

Programmable function keys:

Yes

PC programming:

Yes

Display:

Yes

Display colors:

Green

High/low power:

Yes

Battery capacity:

Li-ion 2000 mAh

Accessory connector:

2-pin Kenwood connector (K)

Voice guide:

English and Chinese

VOX:

Yes, activation by software

Scan:

Yes, activation by software

Flashlight:

Yes

RX group list:

32 groups, 8 members per group

Scanning list:

16 groups, 16 channels per group
Electrical data (radio)
Channels: 10000
Frequency stability: +/- 1.0 ppm
RX sensitivity: 0.25 uV
Microphone modulation: 120 mV
Microphone distortion: 12 mV
Adjacent channel power: > 60 dB at narrow bandwidth
Error radio: -118 dBm
Offset frequency: 100 Hz
Modulation: +3dB –3dB
Spurious Emission: > -57 d
Audio: +2 dB -10 dB
Audio output: Internal speaker 1 W - 12 Ohm / external output 1 W - 16 Ohm
Features (6 way charger)
Suitable for: Wouxun KG-D26 / Wouxun KG-D901 / Wouxun KG-UV9D / Wouxun KG-UV9D Plus / Wouxun KG-UV9K /
Input voltage: 230 Volt
Battery charging function: Yes
Number of radios: 6
Mechanical data (radio)
Length: 53 mm
Height: 245 mm
Width: 33 mm
Weight: 245 gram
Antenna connector: SMA male
Operating voltage: 7.5V DC +/- 20%
Battery life: Battery save off: 24 hours, battery save on: 30 hours (5% transmit, 5% receive, 90% standby)
Mechanical data (6 way charger)
Length: 410 mm
Height: 70 mm
Width: 300 mm
Weight: 200 gram
Color: Black
Inside the box
Radio:

6 pcs

Desktop charger:

6 pcs

Wall adapter:

6 pcs

Batteries (pack):

6 pcs

Belt clip:

6 pcs

User manual:

English

Hand strap:

6 pcs

6 way charger:

1 pcs