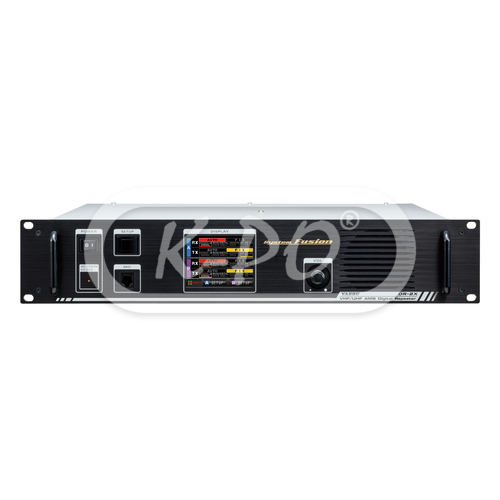 Yaesu - DR-2XE
The Yaesu DR-2XE is a C4FM/FM digital & conventional dual mode transmit and receive VHF and UHF amateur band repeater.The DR-2X repeater combines conventional FM operation with the C4FM digital communication by using the unique Yaesu AMS capability.

C4FM provides Excellent Audio Quality and Reliable Communication
C4FM digital has better BER (Bit Error Rate) characteristics when compared to other Digital modulation systems, and guarantees reliable long distance Communication. The YAESU C4FM digital clear voice technology with 12.5 kHz bandwidth permits high quality voice communication.

FM friendly Digital with AMS (Automatic Mode Select)
System Fusion enables communication between all users with different modes. This is made possible in System Fusion by AMS. The AMS function automatically recognizes a received C4FM digital or a conventional FM signal, then the DR-2X repeater retransmits the signal in the preset communication mode.
Dual Receive Feature provides Flexible Operation
The unique simultaneous Dual Receive Repeater DR-2X allows the control operator to assign an additional frequency for controlling the repeater, transmitting emergency messages, or simply a second up-link frequency. The control operator may also assign separate Down-link frequencies according to the Up-link frequencies.
Enhanced Digital Group ID Feature
The Revolutionary Yaesu Group ID feature allows tracking multiple resources quickly and efficiently by displaying the telemetry and signal strength information of the members that share the same Digital Group Identification number.
DG-ID (Digital Group Identification)
A Group ID of 0 to 99 can be designated for use by the operators that participate in the group communications.Also, the Multi-Site Repeatertransmissions can be controlled by the DG-ID.

DP-ID (Digital Personal Identification)
For Secure repeater operation, a unique ID can be registered to the repeater for individual operator identification. The DP-ID feature can be utilized to limited repeater access to the registered ID members.
IMRS (Internet-linked Multi-site Repeater System) for Wide Coverage Operation
The IMRS (Internet-linked Multi-site Repeater System) allows the repeater operator to link multiple repeaters over a Wide-Area-Network (WAN) or a Local-area-network (LAN). Because of the reliability shortcomings inherent with WAN (Wide Area Network) connections, such as theinternet, the new DR-2X incorporates direct connectivity between repeaters, permitting a variety of networking environments, and provides high quality Digital communication, even when "All Else Fails" The Repeater activation can be controlled using a Digital Group.
User Friendly Set-up (3.5-inch Full Color Touch Panel Display)
The Full color large touch panel screen per mits convenient configuration of the frequency settings and functions.
Frequency range:
144 - 146 MHz / 430 - 440 MHz
Out of stock - Longer delivery time
Available from - 15-12-2023
€1,499.95

(1239.63 excl. 21% VAT)
Features
Display:

Yes, 3.5 inch full colortouch panel

Mode of emission F1D:

16K0F1D F1D - Frequency modulation data transmission, double sideband, without using a modulating subcarrier

Mode of emission F2D:

16K0F2D F2D - Frequency modulation data transmission, using a modulating subcarrier

Mode of emission F3E:

16K0F3E F3E - Frequency modulation telephony

Mode of emission F7W:

12K5F7W F7W - Two or more digital channels combinations of the above

Automatic Mode Select (AMS):

Yes

Emergency operation:

Yes

Advanced operation:

Yes

Dual receive operation:

Yes

Internet-linked Multi-site Repeater System (IMRS):

Yes, function for simple expanded area coverage via the Internet (Option)
Electrical data
Frequency step:

5 kHz / 6.25 kHz /

Operating temperature:

−20°C to +55°C

Frequency stability:

±2.5 PPM

Operating voltage:

11.7 - 15.8 Volt (Negative Ground)

Current consumption:

AC: 2 A (max) / DC: 1.5 A (receive), 10 A (50 W TX, 144 MHz / 430 MHz band)
Receiver
Receiving system:

Dual conversion superheterodyne

Intermediate frequencies CH-A:

Main: 47.25 MHz / Sub: 450 kHz

Intermediate frequencies CH-B:

Main: 44.85 MHz / Sub: 450 kHz

Sensitivity FM mode:

0.2 μV typ for 12 dB SINAD

Sensitivity Digital mode:

0.3 μV typ for BER 1%

Adjacent channel selectivity:

Better than 65 dB TYP (20 kHz offset)

Intermodulation:

Better than 65 dB TYP (40 kHz offset)

Selectivity (-6 dB/-60 dB) FM:

12 kHz / 35 kHz
Transmitter
Power output (Watts):

5/25/50 Watts

Spurious Emission:

≤ 60 dB

Modulation type:

F1D / F2A / F2D / F3E: Variable Reactance Modulation / F7W: 4FSK (C4FM)

Antenna impedance:

50 Ohm
Mechanical data
Length:

380 mm

Height:

88 mm

Width:

482 mm

Weight:

8400 gram

Antenna connector:

TX: 2x UHF (PL) female (SO-239) / RX: 2x UHF (PL) female (SO-239)
Inside the box
Repeater:

Yes

AC Power cord:

Yes, T9027682

DC Power cord with fuse:

Yes, T9026115

Spare fuse:

Yes, 15 A (Q0000075) and 5 A (Q0000143

Case legs:

Yes, S400005 (4 pcs)

PC connection cable:

Yes, SCU-20

Installation manual:

English