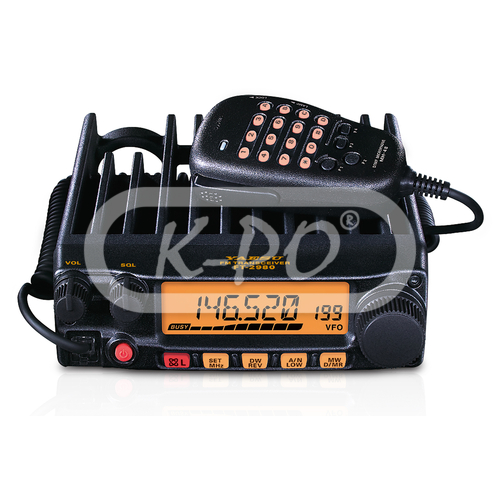 Yaesu - FT-2980E
Product code:
XAH039N312-0E
Factory code:
XAH039N312-0E
The improved FT-2980 now with 80 Watts of High power output! No Cooling Fan Needed, a huge, easy-to-read display, and one-touch WIRES™ Internet Linking Access capability are yours with the rugged new FT-2980E!
CTCSS and DCS encode/decode built in

For easy repeater access, or silent monitoring of busy channels, both CTCSS and DCS (Digital Code Squelch) Encoder/Decoder circuits are built in. CTCSS and DCS configuration data may be stored independently in each memory channel. A "Split Tone" mode also allows operation on systems where CTCSS and DCS are used separately on the repeater uplink/downlink.

Extensive Memory System

The FT-2980E provides a total of 221 memory channels, including 200 "regular" memories, ten pairs of band-limit memories, and an instant-recall "Home" channel you can dedicate to a frequently-used repeater or simplex frequency. Memories can store repeater shift information, CTCSS/DCS data, power output level, scanning status ("Skip"), and Alpha-Numeric labels.

Alpha-Numeric Channel Display

Memory channels may be displayed either with the channel frequency or a personalized Alpha-Numeric label, for easy channel recognition. Up to six letters, characters, or numbers may be used for labeling channels.

Excellent Receiver Performance

The FT-2980E's receiver front end features Yaesu's renowned Advanced Track Tuning RF input filtering, which affords outstanding protection from Intermodulation distortion.
Large LCD Display
The large 6 digit backlit LCD on the FT-2980R ensure excellent visibility
Loud Audio with Internal Speaker
The FT-2980E packs 3W BIG watts of Loud Audio with its own Internal Speaker for those noisy environments.
Now with 80 Watts of Power Output
80 Watts of Solid RF Power with No Cooling Fan Needed! Four selectable power output levels are provided: 80/30/10/5 Watts. The power selection may be stored into memory, allowing you to conserve power while using strong local repeaters.
Frequency range:
136-174 MHz
Out of stock - Longer delivery time
€169.94

(140.45 excl. 21% VAT)
Features
Display:

Yes with backlight

DTMF:

Yes

Mode of emission:

F2D / F3E

CTCSS/DCS:

Yes

Automatic Power-Off (APO):

Yes, The "Automatic Power-Off" (APO) feature will turn the radio completely off after a userdefined period of PTT or key/button inactivity.

Busy Channel Lock-Out (BCLO):

Yes, The BCLO feature prevents the radio's transmitter from being activated if a signal strong enough to break through the "noise" squelch is present.

MIC Gain:

Yes, At the factory, a microphone gain has been programmed that should be satisfactory for the supplied MH-48 A6J Microphone.

PAGER (EPCS):

Yes, This feature allows calling specified stations only, by using a pager code that combines two CTCSS tones.

Time-out Timer:

Yes

External speaker socket:

Yes
Electrical data
Frequency step:

5 kHz / 10 kHz / 12.5 kHz / 15 kHz / 20 kHz / 25 kHz / 50 kHz / 100 kHz /

Channels:

200

Wide and narrow bandwidth selection:

Yes

Operating temperature:

-20℃ to +60℃

Frequency stability:

better than ±10 PPM

Operating voltage:

13.8 Volt (Negative Ground) ±15%

Current consumption:

RX: less than 0.7 A, less than 0.3 A (squelched) / TX: 15 A (80W) / 9 A (30W) / 5 A (10W) / 4 A (5W)

Standard repeater shift:

±600 kHz
Transmitter
Power output (Watts):

5/10/30/80 Watts

Spurious Emission:

≤ 60 dB

Modulation type:

F2D / F3E: Variable Reactance Modulation

Maximum deviation:

Wide: ±5 kHz / Narrow: ±2.5 kHz

Antenna impedance:

50 Ω

Microphone impedance:

2k Ω
Receiver
Sensitivity:

Better than 0.4 μV for 12 dB SINAD

Intermediate frequency 1st:

21.70 MHz

Intermediate frequency 2nd:

450 kHz

Receiving system:

Dual conversion superheterodyne

Audio power output:

3W (4 Ω, THD10%, 13.8 V)

Selectivity (-6 dB/-60 dB) NFM/AM::

Wide: 12 / 28 kHz / Narrow: 9 / 22 kHz
Mechanical data
Length:

185 mm

Height:

50 mm

Width:

160 mm

Weight:

1900 gram

Antenna connector:

UHF (PL) female (SO-239)

Microphone connector:

RJ12
Inside the box
Transceiver:

Yes

DC power cable:

Yes

Installation manual:

English

Microphone:

Yes, MH-48A6JA DTMF Microphone

Mounting bracket:

Yes, MMB-83

Fuse:

Yes, Spare fuse (25A)