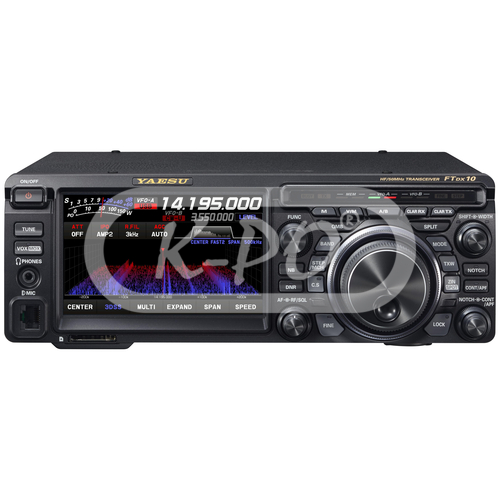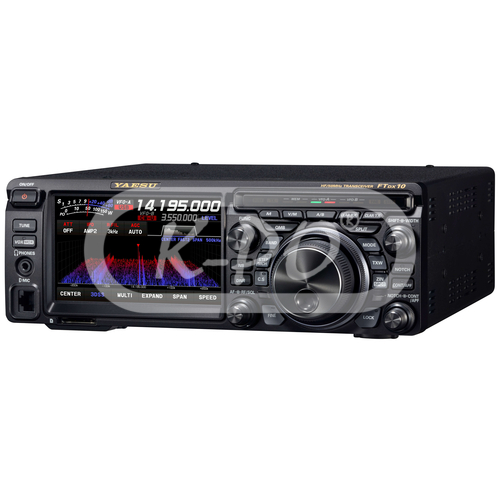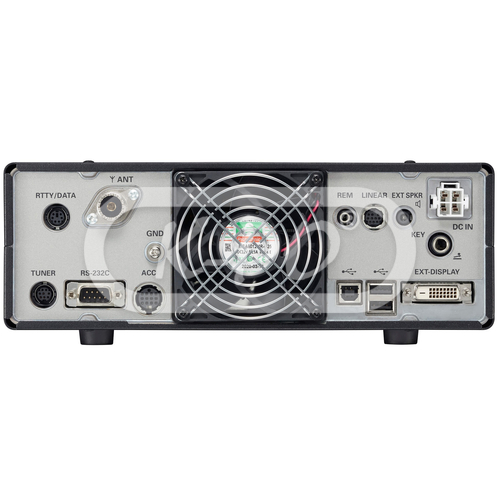 Yaesu - FT-DX10
Product code:
XAH076H005-0E
Factory code:
XAH076H005-0E
We are pleased to introduce the FT-DX10, a new long-awaited compact HF/50MHz 100W SDR Transceiver!
Hybrid SDR Configuration

Like the FT-DX101 series, the new FT-DX10 utilizes the Yaesu Hybrid SDR configuration - Narrow Band SDR and Direct Sampling SDR. The Narrow band SDR receiver emphasizes excellent receiver performance, while the Direct Sampling SDR provides a Digital Processing Real-Time Spectrum Scope.

Narrow Band SDR with 3 types of Roofing Filters and Phenomenal Multi-signal receiving Characteristics

Like the FT-DX101 series, the Down Conversion type receiver configuration with the first IF at 9MHz has been adopted. It makes it possible to incorporate excellent narrow bandwidth crystal roofing filters that have the desired sharp "cliff edge" shape factor. Thanks to the Narrow Band SDR with the latest circuit configuration including 500 Hz, 3 kHz and 12 kHz roofing filters and low-noise oscillator, the RMDR (Reciprocal Mixing Dynamic Range) reaches 116 dB or more, the close-in BDR (Blocking Dynamic Range) reaches 141dB or more and 3rd IMDR (third-order Intermodulation Dynamic Range) reaches 109 dB or more in the 14 MHz band at 2 kHz separation.
250 MHz HRDDS (High Resolution Direct Digital Synthesizer) affords Quiet and Clear Reception
The local circuit of the new FT-DX10 uses 250 MHz HRDDS method same as the FTDX101 series. Thanks to its characteristics that improve the C/N (carrier to noise) ratio and the careful selection of components in the design, the phase noise characteristic of the local signal achieves an excellent value of -145 dB or less in 14 MHz at 2 kHz separation.
3DSS (3-Dimensional Spectrum Stream) on the 5-inch Full-Color TFT Display with Touch-Panel Functionality
The 5-inch Full-Color panel shows the 3DSS display. By touching the frequency display, the numeric keypad is displayed, and the active band and frequency adjustment can be set by direct input. Frequency setting and adjustment can also be performed by turning the MAIN dial or touching the scope display. Similar to the FTDX101 series, the MULTI display, RX operation status display, Center, FIX and Cursor modes are available.
Front Panel Designed for Superior Operating Efficiency
MPVD (Multi-Purpose VFO Outer Dial), is a large multi-purpose ring around the outside of the VFO dial that enables control of Clarifier, C/S (custom selection function) and recall of memory channels.
Remote Operation with optional LAN unit (SCU-LAN10)
Remote operation of the transceiver is possible with the optional SCU-LAN10 and SCU-LAN10 Network Remote Control Software. In addition to controlling the transceiver basic operations, the versatile scope displays enable sophisticated operations such as monitoring the band conditions on a large display at a location away from the ham shack by connection to a home LAN network.

The features of the new FT-DX10 include:
15 separate band pass filters
Effective QRM rejection with the IF DSP (IF SHIFT/WIDTH, IF NOTCH DNF, DNR, COUNTOUR) High-quality and super stable final amplifier utilizing the new push-pull MOSFET RD70HUP2 Aluminum Heat Sink with 80mm low-noise axial flow cooling fan
High Speed Automatic Antenna Tuner with a large capacity 100-channel memory
RF & AF Transmit Monitor
Microphone Amplifier with Three-stage parametric Equalizer (SSB/ AM mode)
QMB (Quick Memory Bank)
Band Stack Function
Optional speaker – SP-30 designed for the new FT-DX10
Optional roofing filter (300Hz) – XF-130CN available
Frequency range:
TX: 1.8-54 MHz, RX: 30 kHz - 75 MHz
Out of stock - Longer delivery time
Available from - 13-12-2023
€1,529.95

(1264.42 excl. 21% VAT)
Features
Display:

5 inch Full-Color TFT Display with Touch-Panel

Emergency (SOS) function:

Yes

Mode of emission:

A1A (CW) / A3E (AM) / J3E (SSB) / F2D (FM) / F3E (FM) / F1B (RTTY) / G1B (PSK

VFO/Memory Scan:

Yes

Programmable Memory Scan (PMS):

Yes, The PMS feature is especially useful in helping to observe any operating sub-band limits which apply to your Amateur license class.

AF / RF gain / Squelch:

Yes

Noise Blanker:

Yes

Time-Out Timer (TOT):

Yes, The "Time-Out Timer" (TOT) shuts the transmitter OFF after continuously transmitting for the programmed time.

Band Stack:

Yes

Digital Noise Reduction (DNR):

Yes, The Digital Noise Reduction (DNR) system is designed to reduce the level of ambient noise found on the HF and 50 MHz bands.

Quick Memory Bank (QMB):

Yes, The current operation status can be stored in a dedicated memory channel (QMB: Quick Memory Bank) with one touch.

External phone jack:

Connect headphones to this standard φ3.5 stereo jack.

MicroSD card slot:

Yes

External speaker socket:

Yes

External tuner socket:

Yes

External RTTY/DATA jack:

Yes

External ground socket:

Yes

External REM socket:

Yes

External linear socket:

Yes

External RS-232C socket:

Yes

External USB socket:

Yes

External USB jack:

Yes

External Key socket:

Yes

External display socket:

Yes

External ACC socket:

Yes
Electrical data
Wide and narrow bandwidth selection:

Yes

Operating temperature:

0℃ to +50℃

Frequency step SSB/CW:

1 Hz / 10 Hz

Frequency step AM/FM:

10 Hz / 100 Hz

Frequency stability:

±0.5 PPM

Operating voltage:

13.8 Volt ± 15% (Negative Ground)

Current consumption:

RX (no signal): 2.5 A / RX (signal present): 2.0 A / TX (100W): 23 A
Transmitter
Power output (Watts):

SSB, CW, FM: 5-100 Watts / AM: 5-25 Watts

Spurious Emission:

1.8-30 MHz: Better than -50 dB / 50 MHz: Better than -63 dB

Modulation type:

J3E / A3E / F3E

Maximum deviation:

Wide:±5.0 kHz / Narrow: ±2.5 kHz

Harmonic Radiation 1.8 - 29.7 MHz:

Better than -50 dB

Harmonic Radiation 50 MHz:

Better than -63 dB

Harmonic Radiation 70 MHz (UK amateur band):

Better than -60 dB

Antenna impedance (Antenna tuner 'OFF'):

50 Ω (unbalanced)

Antenna impedance (Antenna tuner 'ON') HF:

16.7-150 Ω (unbalanced)

Antenna impedance (Antenna tuner 'ON') 50 MHz:

25 - 100 Ω (unbalanced)

Microphone impedance:

600 Ω (200 - 10k Ω )

SSB Carrier Suppresion:

At least 60 dB below peak output

Undesired Sideband Suppression:

At least 60 dB below peak output

3rd-order IMD:

-31 dB @14 MHz 100W PEP

Audio response SSB:

Not more than -6 dB from 300 - 2700 Hz
Receiver
Sensitivity 1.8-30 MHz SSB/CW:

0.16μV typ for 10 dB SINAD (AMP2 "ON") (2.4 kHz)

Sensitivity 50-54 MHz SSB/CW:

0.125μV typ for 10 dB SINAD (AMP2 "ON") (2.4 kHz)

Sensitivity 70-70.5 MHz SSB/CW:

0.125μV typ for 10 dB SINAD (AMP2 "ON") (2.4 kHz)

Sensitivity 0.5-1.8 MHz AM:

7.9 μV typ for 10 dB SINAD (AMP2 "ON") (30% modulation, 6.0 kHz)

Sensitivity 1.8-30 MHz AM:

2.0 μV typ for 10 dB SINAD (AMP2 "ON") (30% modulation, 6.0 kHz)

Sensitivity 50-54 MHz AM:

1.0 μV typ for 10 dB SINAD (AMP2 "ON") (30% modulation, 6.0 kHz)

Sensitivity 70-70.5 MHz AM:

2.0 μV typ for 10 dB SINAD (AMP2 "ON") (30% modulation, 6.0 kHz)

Sensitivity 28-30 MHz FM:

0.25 μV typ for 12 dB SINAD (AMP2 "ON") (1 kHz 3.5 kHz DEV BW: 12 kHz)

Sensitivity 50-54 MHz FM:

0.20 μV typ for 12 dB SINAD (AMP2 "ON") (1 kHz 3.5 kHz DEV BW: 12 kHz)

Sensitivity 70-70.5 MHz FM:

0.25 μV typ for 12 dB SINAD (AMP2 "ON") (1 kHz 3.5 kHz DEV BW: 12 kHz)

Intermediate frequency 1st:

9.005 MHz

Intermediate frequency 2nd:

24 kHz

Selectivity (-6 dB/-60 dB) CW (BW=0.5 kHz):

0.5 kHz or better / 0.75 kHz or less

Selectivity (-6 dB/-60 dB) SSB (BW=2.4 kHz):

2.4 kHz or better / 3.6 kHz or less

Selectivity (-6 dB/-60 dB) AM (BW=6 kHz):

6.0 kHz or better / 15 kHz or less

Selectivity (-6 dB/-60 dB) FM (BW=12 kHz):

12 kHz or better / 30 kHz or less

Receiving system:

Dual conversion superheterodyne

Strength of secondary radio waves:

≤4 nW

Audio power output:

2.5W (THD10%, 13.8 V)

Audio output impedance:

4 - 16 Ω ( Nominal: 8 Ω)

Image rejection 1.8-28 MHz:

70 dB or better

Image rejection 50 MHz:

60 dB or better
Mechanical data
Length:

266 mm

Height:

91 mm

Width:

263 mm

Weight:

1900 gram

Antenna connector:

UHF (PL) female (SO-239)

Microphone connector:

RJ45
Inside the box
Transceiver:

Yes

DC power cable:

Yes

Installation manual:

English

Plug:

Yes, 6.3 mm 3-contact plug

Microphone:

Yes, SSM-75E Microphone

Fuse:

Yes, Spare fuse (25 A)