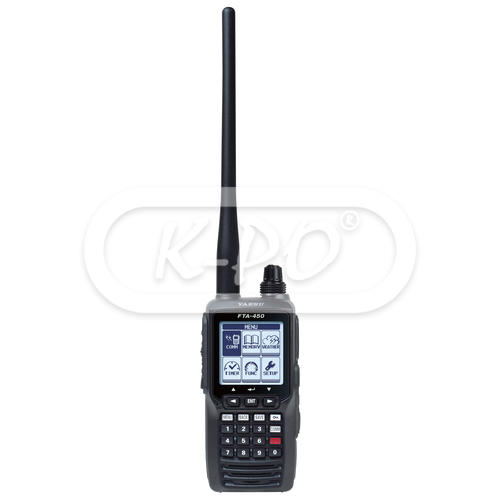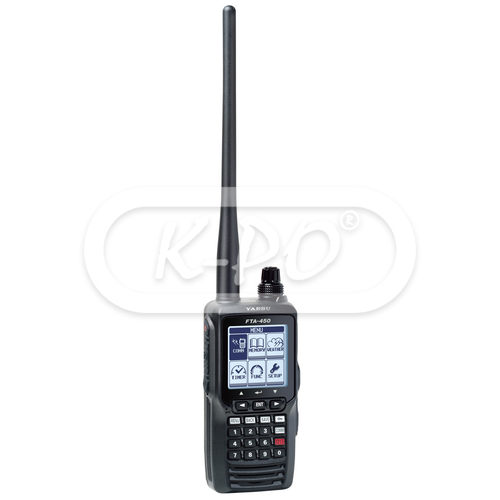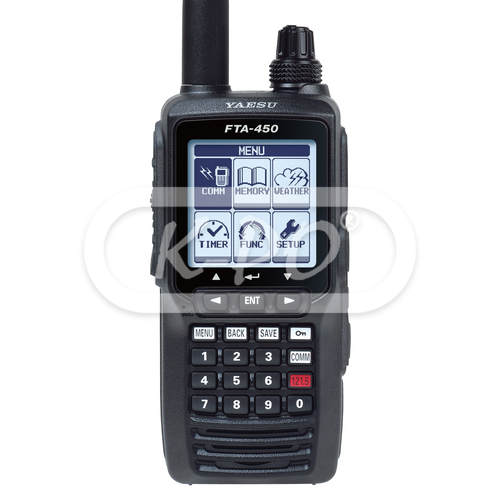 Yaesu - FTA-450L
Product code:
XAA001N039-1E
Factory code:
XAA001N039-1E
The Yaesu FTA-450L is a competitively priced (COMM ONLY) version of the wildly successful FTA-550L and FTA-750L. Featuring the same Easy To Operate icon driven menu system, on a large 1.7" x 1.7" Full Dot Matrix Display. The same Loud 800mW internal audio speaker guarantees calls will not be missed. 8.33 kHz Narrow Band compatible, with a programmable 200 channel memory bank, means all favorite channels can be easily stored and retreived with just a few button presses. Valued packaged with all the necessary accessories, including 110VAC and 12VDC chargers, headset adapter, Alkaline battery tray, Belt Clip, USB programming cable, and a large capacity 2200 mAh Li-Ion rechargeable battery.

Now Meets MIL-STD-810F
The FTA-450L has now been tested and complies with the Military Standard MIL-STD-810F. Similar to commercial Land Mobile radios, all current Yaesu Airband Transceivers have been tested for durability against Low temperatures, High temperatures, Shock, Vibration, Dust and Rain, ensuring many years of rugged use.
Easy to operate menu system

The FTA-450L comes configured with an easy to operate icon driven menu system. The displays and menu settings are logically configured for a more intuitive user interface.

Huge Dot Matrix LCD display
The FTA-450L features a huge 1.7" x 1.7" full dot matrix LCD display with full backlight and dimmer. The high resolution display makes it easier to view all the great features the FTA-450L has to offer.
200 Channel Memory bank

The FTA-450L can store up to 200 Memory channels for quick and easy retrieval. With the capability of using up to 15 Alphanumeric characters per name the FTA-450 allows for a better channel description.

PC Programmable

The FTA-450L channel configurations can easily be reprogrammed using the supplied USB programming cable and the optional YCE01 programming software.
Frequency range:
118.000-136.9916 MHz (COM bands)
Shipped today
€279.95

(231.36 excl. 21% VAT)
Features
Display:

Huge 1.7 x 1.7 inch Full-Dot matrix Display (160x160 pixel)

Battery capacity:

Li-ion 2200 mAh (7.2V)

Accessory connector:

1-pin Yeasu connector (Y)

NOAA Weather channel receive:

Yes

NOAA Weather Alert:

Yes

Waterproof index:

IPx5

Vox function:

Yes, 5 Levels

Scan function:

Yes

Dual Watch function:

Yes
Electrical data
Frequency step:

8.33 kHz / 25 kHz /

Channels:

200 channels with 15 character alphanumeric tags

Operating temperature:

-10℃ to +60℃

Supply voltage:

6.0 to 9.5 Volt

Current consumption:

Power off: 300 μA / Battery save on: 60 mA / Squelch on: 80 mA / Receive: 300 mA / Transmit 1.5 Watt: 0.9 A
Transmitter
Power output (Watts):

Carrier Power: 1.5 Watt / PEP: 5.0 Watt

Spurious Emission:

>70 dB below carrier

Frequency stability:

Better than ±1 ppm (-10℃ to +60℃)

Modulation system:

Low Level Amplitude Modulation

Internal microphone type:

Condensor

External microphone impedance:

150 Ω
Receiver
Sensitivity:

Better than 0.8 μV (for 6 dB S/N with 1 kHz, 30 % modulation)

Audio power output:

0.8 W (16 Ω, THD10%)

Receiving system:

Dual conversion superheterodyne

Intermediate frequency:

VHF: 47.25 MHz / UHF: 46.35 MHz, 450 kHz

Selectivity:

>8 kHz/–6 dB @ 25 kHz channel spacing

Adjacent channel selectivity:

<25 kHz/–60 dB @ 25 kHz channel spacing
Mechanical data
Length:

34 mm

Height:

133 mm

Width:

62 mm

Weight:

410 gram

Antenna connector:

BNC

Housing:

Rugged construction certified to MIL-STD-810F
Inside the box
Transceiver:

Yes

Battery:

Yes, SBR-39LI Li-ion Battery Pack (7.2V 2200mAh)

Charger:

Desk charger with AC adapter (SBH-11 - SAD-25C)

Installation manual:

English

Antenna:

Yes, SRA-20A Helical antenna

Cigarette lighter DC/DC converter:

Yes, SDD-12

Beltclip:

Yes, SHB-11

Headset adapter:

Yes, SCU-42

Alkaline battery tray:

Yes, SBT-12

USB programming cable:

Yes, T9101606 (mini USB / USB-A)

Ferrite Core:

Yes, L9190192