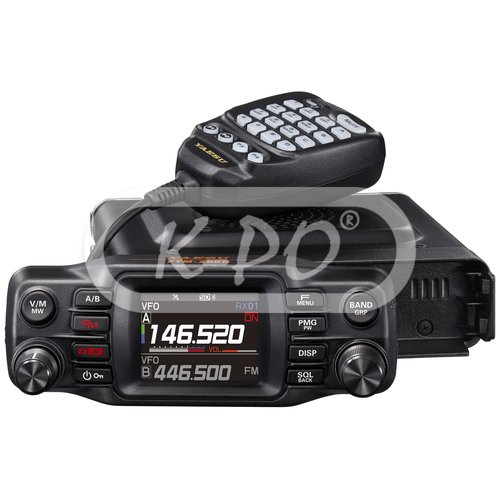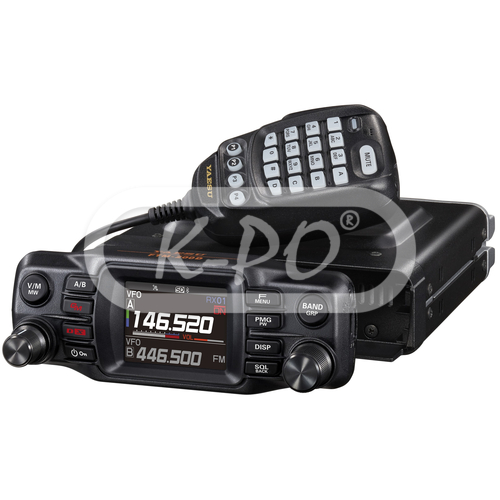 Yaesu - FTM-200DE
Product code:
XAH061M304-0E
Factory code:
XAH061M304-0E
The Yaesu FTM-200DE is a dual band digital mobile transceiver with 50W power and can be used on the C4FM/FM 144/430MHz frequency.
Stable 50 Watt Output

The FTM-200DE provides stable and reliable 50W RF power output. As in recent YAESU mobile transceivers, the FTM-200 DE is also equipped with a heavy-duty heat sink that includes our exclusive FACC (Funnel Air-Convection Conductor – Wind Tunnel). Real Dual Band Operation (V+V, U+U, V+U, U+V) is available with two independent receivers, and the FTM-200DE supports simultaneous C4FM digital monitoring for both the A and B bands.
High-resolution display
a 2-inch High-Resolution QVGA Full-Color TFT Display clearly highlights the frequency and operation bands.
Primary Memory Group (PMG)

Yaesu PMG (Primary Memory Group) function in the FTM-200DE allows PMG-SR Monitor (Primary Memory Group with a Single Receiver). The display frequency can register up to 5 PMG channels, regardless of the VFO or Memory channel operation. AUTO or MANUAL mode can be selected**.
Clear audio
3W audio power speaker ensures a clear and crisp audio – that has been specifically tuned for quality audio. Two individual external speaker jacks are provided. Users can output the VFO A and B band Receiver to separate speakers or mix A and B signals when a single external speaker is used.
Bluetooth support
Built-in Bluetooth unit is installed in the FTM-200DE. This enables the hands-free operation with the Yaesu SSM-BT10 or a commercially available product. The SSM-BT10 is equipped with a PTT button and also supports VOX operation. Using the new USB charger cable – SCU-41 with the controller of the FTM-200DE, the SSM-BT10 can be easily charged. The SSM-BT10 works for approximately 20 hours on single charge.
WiRES-X
The FTM-200DE supports both the WiRES-X Portable Digital Node function and Fixed Node function with the HRI-200. Since simultaneous C4FM monitoring on both VFO A and VFO B is possible, users can enjoy both WiRES-X communications on one channel while monitoring another local channel at the same time.
Frequency range:
TX: 144-146 / 430-440 MHz, RX: 108-999.99 MHz
Shipped next business day - Stock: 1
€379.95

(314.01 excl. 21% VAT)
Features
Display:

High Resolution, Full color, QVGA TFT Display, 2.0 inch

VOX function:

Yes

DTMF:

Yes

Mode of emission:

F1D / F2D / F3E / F7W

Bluetooth:

Version: 4.2 / Class: 2

Memory Auto Grouping (MAG):

Yes, Memory channels can be easily grouped and recalled by band. Each time the [BAND grp] key is pressed while operating in memory mode, the bands are switched in the order illustrated below.

Primary Memory Group (PMG):

Yes, Frequently used frequencies that have been registered in PMG, can be displayed in an easy-to-understand manner simply bypressing the [PMG pw] key

Digital Code squelch (DCS):

Yes, DCS (Digital Coded Squelch) function allows audio to be heard only when signals containing the matching DCS code are received.

New PAGER (EPCS):

Yes, This new feature allows calling specified stations only, by using a pager code that combines two CTCSS tones.

VFO Band Skip:

Yes, The VFO band selection is enabled by pressing the [BAND grp] key. Also, unused bands may be skipped.

Automatic Packet Reporting System (APRS®):

Yes, The FTM-200DE uses a GPS receiver to acquire and display its position location information. The APRS feature uses the location information to transmit the position information, data and messages, using the format developed by Bob Bruninga WB4APR.

Data communication:

Yes, 1200/9600bps APRS® Data Communication

WiRES-X:

Yes, Portable Digital Node or HRI-200 Fixed Node capability

Voice recording:

Yes, of the received and transmitted audio

GPS:

Yes, built-in 66ch High precision GPS receiver and External GPS device connectivity

Smart navigation:

Yes, Real time Navigation and Backtrack functions

Digital Personal ID (DP-ID):

Yes, Digital Personal ID (DP-ID) feature opens the speaker audio only when a C4FM signal

MicroSD card slot:

Yes, up to 32 GB

External DATA jack:

Yes

External speaker socket:

Yes, ext SP A and SP B
Electrical data
Frequency step:

5 kHz / 6.25 kHz / 8.33 kHz / 10 kHz / 12.5 kHz / 15 kHz / 20 kHz / 25 kHz / 50 kHz / 100 kHz /

Channels:

1104

Operating temperature:

-20℃ to +60℃

Frequency stability:

±2.5 PPM

Operating voltage:

13.8 Volt (Negative Ground)

Current consumption:

RX: 0.5 A / TX: 11 A (50W 144 / 430 MHz)
Transmitter
Power output (Watts):

5/25/50 Watts

Spurious Emission:

≤ 60 dB

Modulation type:

F1D / F2D / F3E: Variable Reactance Modulation / F7W: 4FSK (C4FM)

Maximum deviation:

±5.0 kHz

Antenna impedance:

50 Ω

Microphone impedance:

2k Ω

DATA Jack impedance:

10k Ω
Receiver
Sensitivity 108-137 MHz AM:

0.8 μV typ for 10 dB SINAD

Sensitivity 137-150 MHz FM:

0.2 μV typ for 12 dB SINAD

Sensitivity 150-174 MHz FM:

0.25 μV typ for 12 dB SINAD

Sensitivity 174-222 MHz FM:

0.3 μV typ for 12 dB SINAD

Sensitivity 222-300 MHz FM:

0.25 μV typ for 12 dB SINAD

Sensitivity 300-336 MHz AM:

0.8 μV typ for 10 dB SINAD

Sensitivity 336-420 MHz FM:

0.25 μV typ for 12 dB SINAD

Sensitivity 420-470 MHz FM:

0.2 μV typ for 12 dB SINAD

Sensitivity 470-540 MHz FM:

0.2 μV typ for 12 dB SINAD

Sensitivity 540-800 MHz FM:

0.8 μV typ for 12 dB SINAD

Sensitivity 800-900 MHz AM:

0.4 μV typ for 12 dB SINAD

Sensitivity 900-999.99 MHz AM:

0.8 μV typ for 12 dB SINAD

Digital mode:

0.19 μV typ for BER 1%

Intermediate frequency 1st:

58.05 MHz

Intermediate frequency 2nd:

450 kHz

Receiving system:

Dual conversion superheterodyne

Strength of secondary radio waves:

≤4 nW

Audio power output (Internal speaker):

3W (8 Ω, THD10%, 13.8 V)

Audio power output (External speaker):

3W (8 Ω, THD10%, 13.8 V)

Selectivity (-6 dB/-60 dB) NFM/AM::

12 kHz / 30 kHz
Mechanical data
Length (Radio unit):

132 mm

Height (Radio unit):

42 mm

Width (Radio unit):

139 mm

Length (Controller):

18 mm

Height (Controller):

53 mm

Width (Controller):

139 mm

Weight:

1100 gram

Antenna connector:

UHF (PL) female (SO-239)

Microphone connector:

RJ12
Inside the box
Transceiver:

Yes

DC power cable:

Yes

Installation manual:

English

Microphone:

Yes, SSM-85D DTMF Microphone

Control cable short:

Yes

Control cable long:

Yes, 3 meters

Bracket for main body:

Yes

Bracket for the controller:

Yes

USB Cable:

Yes

Fuse:

Yes, Spare fuse (15A)