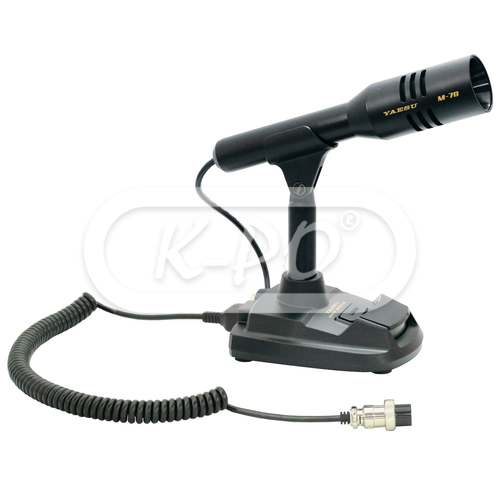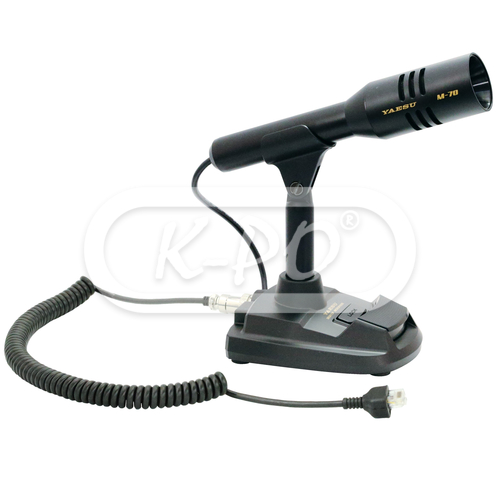 Yaesu - M-70D
The Yaesu M-70D is a high quality and robust desktop microphone. Utilizes a directional condensor microphone element with specially tuned frequency response.
For use with most modern Yaesu transceivers that have the 'modular' or '8-pin' microphone connector. A 'modular' to '8-pin' microphone cable is included, which can be used in both ways just by turning it around. So no extra microphone cable is needed.
If your transceiver is not listed please contact us to check the compatibility for you.

Out of stock - Longer delivery time
Available from - 13-12-2023
€139.95

(115.66 excl. 21% VAT)
Features
Suitable for:

Yaesu FT-450 / Yaesu FT-817 / Yaesu FT-818 / Yaesu FT-847 / Yaesu FT-857 / Yaesu FT-891 / Yaesu FT-897 / Yaesu FT-900 / Yaesu FT-920 / Yaesu FT-950 / Yaesu FT-991A / Yaesu FT-2000 / Yaesu FT-DX10 / Yaesu FT-DX101D / Yaesu FT-DX101MP / Yaesu FT-DX1200 / Yaesu FT-DX3000 / Yaesu FT-DX5000 / Yaesu FT-DX9000 /

Lock button:

Yes

Microphone type:

Condensor

Low Cut switch:

When this switch is ON, a low-cut filter (cut-off frequency 340 Hz, -6 dB/octave) is activated

Microphone connector:

8-pin / RJ45
Electrical data
Frequency response:

30 - 17000 Hz

Impedance:

600 Ω

Sensitivity:

-60 dB (1 kHz 0 dB=1V/1Pa)

Current consumption:

15 mA (TYP)

Supply voltage:

DC 5.0 V ±10 %
Mechanical data
Length:

126.5 mm

Height:

170 mm

Width:

106 mm

Weigth:

450 gram