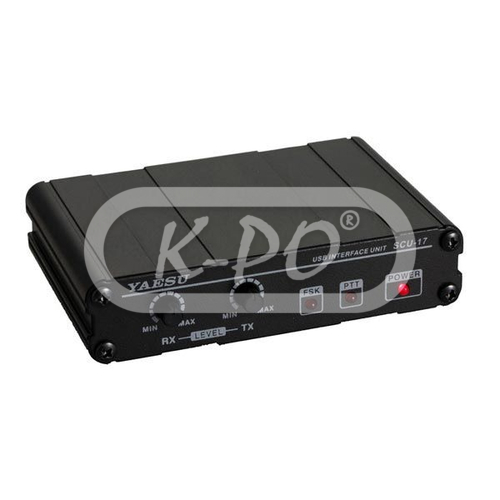 Yaesu - SCU-17 USB interface
The Yaesu SCU-17 USB interface unit may be used for CAT control of the transceiver with a computer via a USB connection and for communications using SSTV, RTTY and PSK digital modes. (Note: Yaesu does not produce CAT, SSTV, RTTY or PSK operating software).

Provides CAT communications through USB when PC does not have RS-232C port.

Has a USB audio system so the TX and RX audio is accessible through the USB cable.
Has a two-channel USB serial device and enables various transmit modes and CAT comms. simultaneously.
Operates from USB bus power, so no external power supply required.
Provides high RF isolation via photo relays.
Front panel TX and RX audio controls.
LED indicators monitor PTT and FSK control.
Out of stock - Longer delivery time
Available from - 13-12-2023
€129.95

(107.4 excl. 21% VAT)
Electrical data

Voltage:

5.0 V ±5%, (Negative Ground)

Consumption:

130 mA

Data jack:

PTT: Maximum output +25 V, 50 mA / FSK: Maximum output +25 V, 50 mA / DATA-IN: 100 mVrms @ 10 k Ohm / DATA-IN: 100 mVrms @ 600 Ohm

FSK/PTT jack:

PTT: Maximum output +30 V, 250 mA (open drain) / FSK: Maximum output +30 V, 250 mA (open drain)

Audio jack:

AUDIO-IN: 100 mVrms @ 600 Ohm / AUDIO-OUT: 100 mVrms @ 600 Ohm

CAT/RS-232 jack:

RS-232C voltage level

USB Connector:

USB 1.1 or USB 2.0, USB bus power
Mechanical data

Length:

111 mm

Height:

26 mm

Width:

74 mm

Weight:

230 gram
Required cables

Standard cable:

Yaesu FT-450 / Yaesu FT-950 / Yaesu FT-DX1200 /

Yaesu CT-62 CAT interface cable:

Yaesu FT-817 / Yaesu FT-818 / Yaesu FT-897

Yaesu SCU-21 interface cable:

Yaesu FT-2000 / Yaesu FT-DX5000

Yaesu SCU-22 interface cable:

Yaesu FT-DX9000
Inside the box

USB cable:

Yes, type A to type B

RS-232C cable:

Yes, female to female

Connection cable:

Yes, MDIN6P - MDIN6P

3.5 mm Stereo plug:

2 pcs, PTT/FSK and Audio