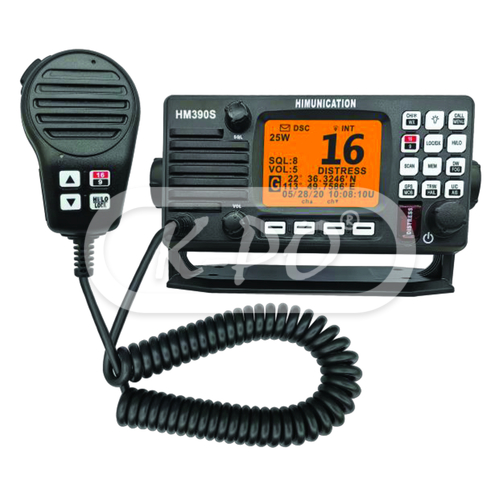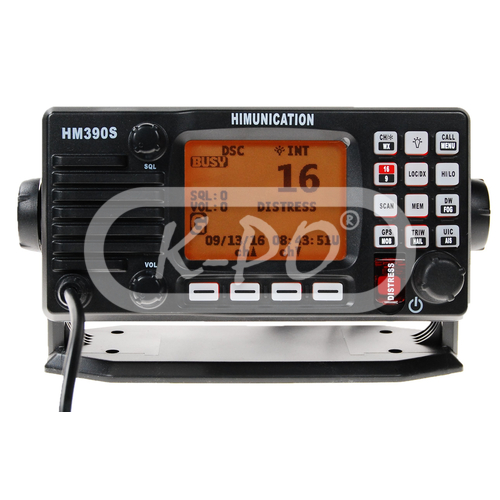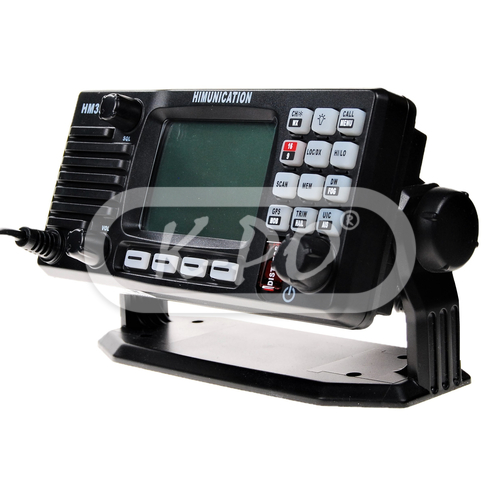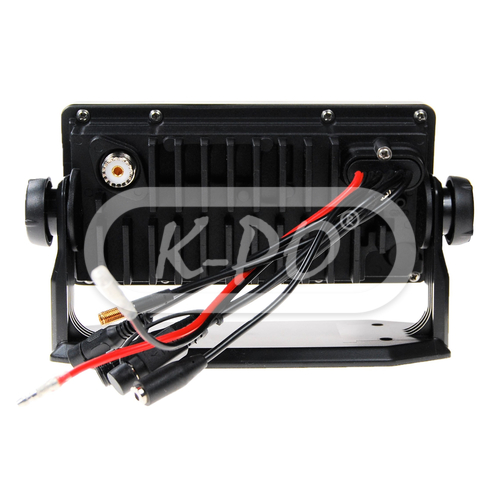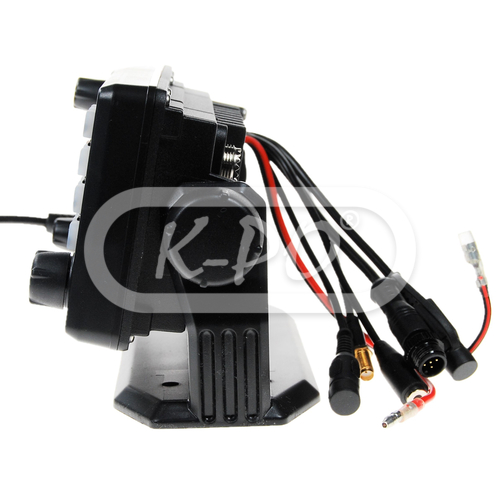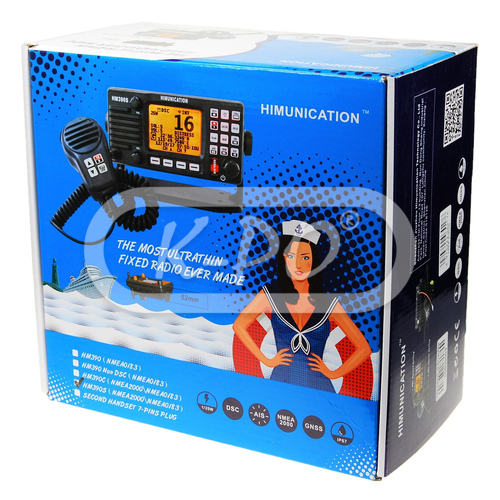 Himunication - HM390S AIS/DSC/GPS (ATIS)
New stock in April 2023, pre-orders are possible. Price subject to change.
The HM390S is a new generation VHF Marine Band DSC Class-D radio with internal AIS receiver and integrated GPS receiver. The HM390S marine radio is equipped with a large LCD monitor which shows clearly all data from most viewing angles and conditions. Standard with features like ATIS, FOG anchor alarm, MOB function and more. Simple and easy to operate, almost all functions are accessible by using only 4 buttons. Slim and compact design which makes it easy to install with the supplied materials. Despite the compact size the radio is equipped with a large loudspeaker.
Frequency range:
TX: 156.025 to 157.425 MHz / RX: 156.300 to 162.000 MHz
Out of stock - Longer delivery time
€305.74

(305.74 excl. 0% VAT)
Features
16/9 channel switch:

Yes

Private channel facility:

Yes

Dual and tri watch:

Yes

Display:

Large LCD with full dot-matrix display

Bandwidth:

TX: 156.025 to 157.425 MHz / RX: 156.300 to 162.00 MHz

Priority channel scan:

Yes

High/low power selection:

Yes

MOB alert (man overboard):

Yes

Distress key:

Yes

ATIS:

Yes, one-time programmable by keypad

Digital Selectivity Calling (DSC):

Yes, Class 'D'

GPS:

Yes, built-in GPS receiver

GPS frequency:

2.401 - 2.480 GHz

1 / 25 Watts switchable power:

Yes

Weather channel:

Yes

Channel 31 and 37:

Yes, pre-programmed

AIS Receiver:

161.9750 - 162.025 MHz (2 channels)
Electrical data
Channels:

56 INT channels / 52 USA channels / 59 Canada channels / 10 Weather channels (only for USA) / 99 Private channels

Frequency stability:

±5 PPM

Operating temperature (Celsius):

-15 to +55˚C
Transmitter
Power output (Watts):

1 / 25 Watts

Modulation:

FM (16K0G3E) / DSC/ATIS (16K0G2B)

Channel spacing:

25 kHz

Oscillate Mode:

PLL

Built-in speaker:

Yes

Audio distortion:

5%
Mechanical data
Length:

210 mm

Height:

111 mm

Width:

57 mm

Weight:

1200 gram

Antenna connector:

UHF (PL) female

NMEA0183 connectors:

Yes

NMEA2000 connectors:

Yes

NMEA input (receive):

RMC, GGA, GLL, ZDA, VTG, GSV

NMEA output (transmit):

DSC (for DSC call) DSE (for enhanced position) AIVDM
GPS
Channels: 56
Sensitivity: Tracking:-161dBm / Reacquisition:-160dBm / Cold start:-147dBm
Cold/Hot start: 60 seconds, average / 40 second, average
Inside the box
Transceiver:

Yes

Microphone:

Yes

Mounting bracket:

Yes

Mounting parts:

Yes

DC power cable:

Yes

Installation manual:

English

Microphone holder:

Yes