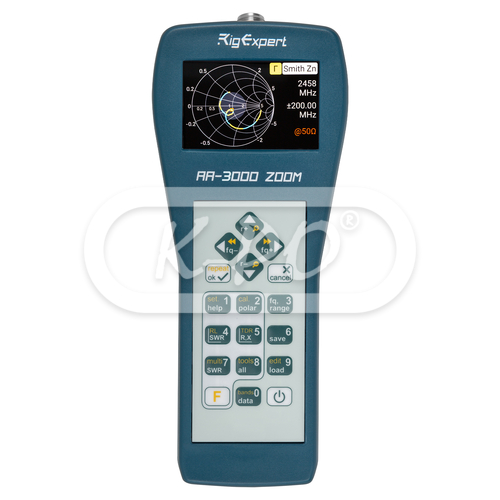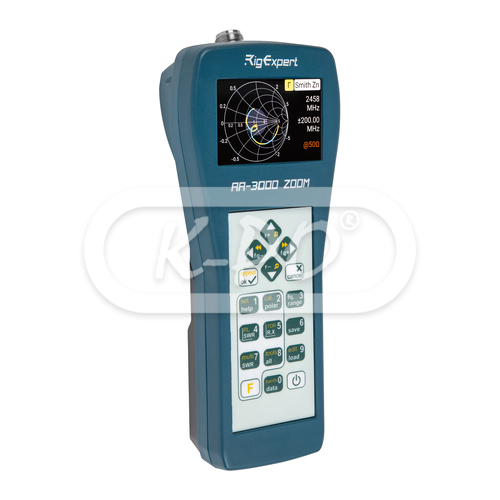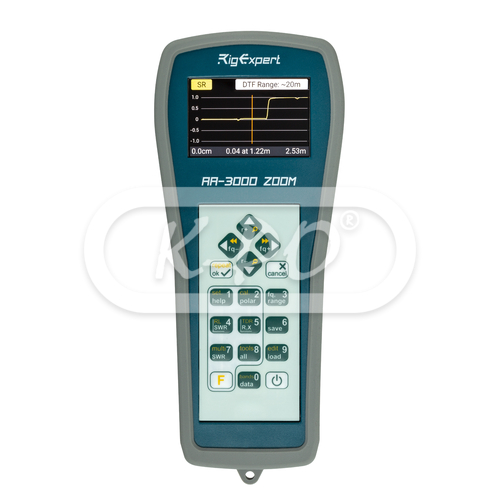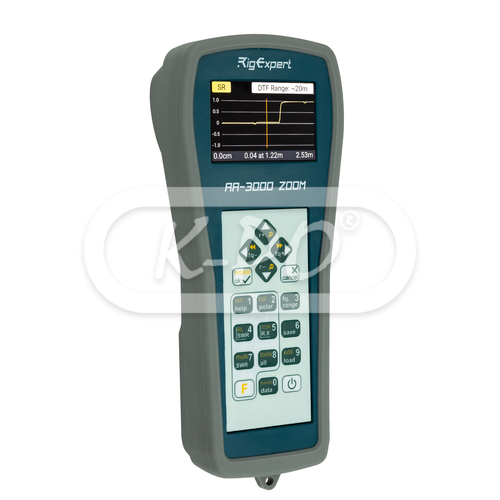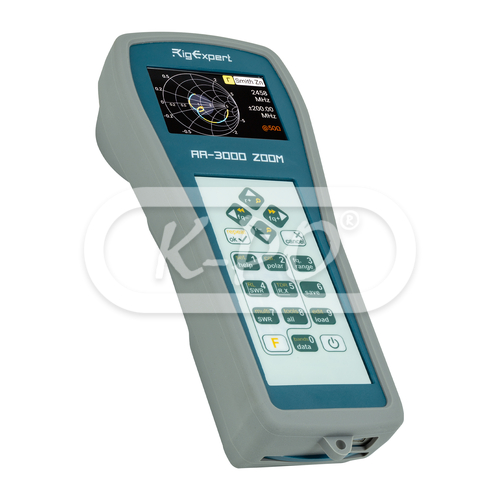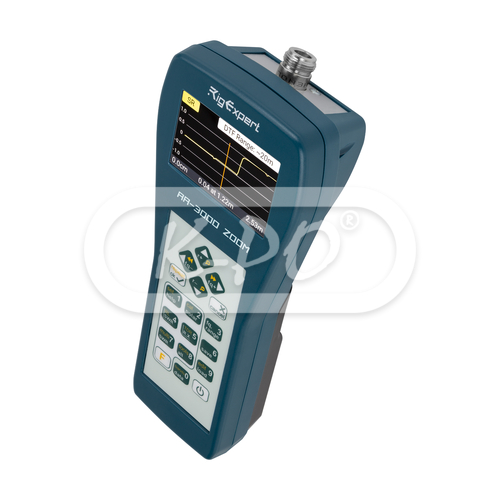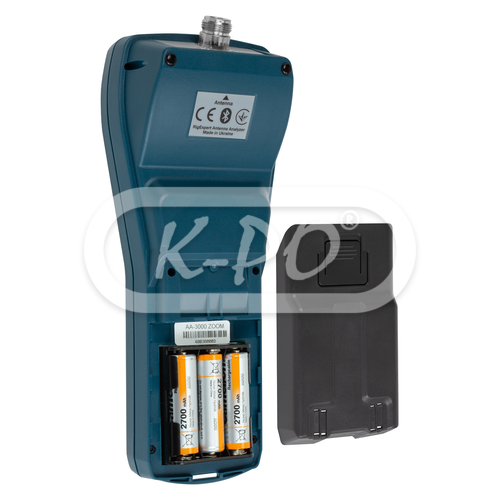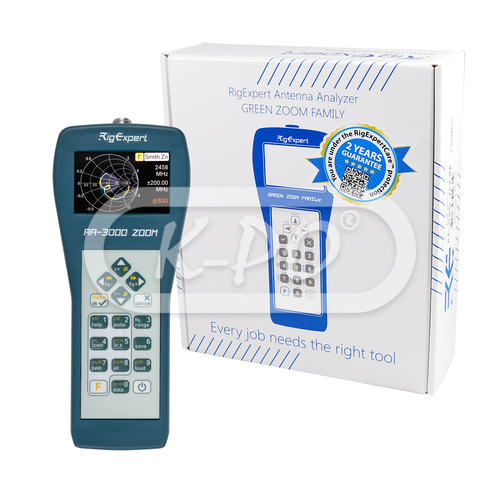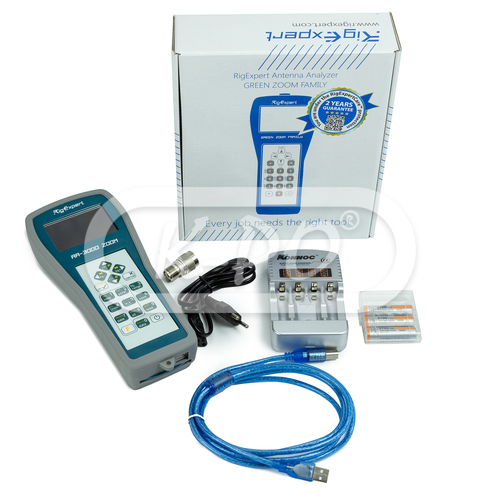 RigExpert - AA-3000 ZOOM
The flagship antenna and cable analyzer with a range from 0.1 to 3000 MHz and a Big Blanview® ZOOM display.
A built-in ZOOM capability makes graphical measurements especially effective.

An integrated Time Domain Reflectometer mode can be used to locate a fault within the feedline system.

The analyzer is equipped with a Bluetooth Low Energy module for a wireless connection with your laptop, tablet or smartphone.
The following tasks are easily accomplished by using this analyzer:
Perfect for amateur, professional, and commercial radio.
Check and adjust antennas quickly.
Measure cable length and velocity factor.
Set up 1/4-λ, 1/2-λ stubs.
Find cable faults in a snap.
Measure parameters of other RF elements.
Enjoy the big sunlight-readable Blanview® display.
Trust the factory calibration.
Navigate the multilingual intuitive interface.
Get help at the push of a button with the built-in Helper.
Store OSL calibration data for future use.
Silicone case, battery charger, rechargeable batteries, USB cable, N to UHF adapter in the box.
RigExpert AA-3000 ZOOM is made in Ukraine.

Specifications are subject to change without notice.
Frequency range:
0.1 - 3000 MHz
Shipped next business day - Stock: 2
€1,349.95

(1115.66 excl. 21% VAT)
Features
Frequency range:

0.1 to 3000.0 MHz

Frequency entry:

1 kHz resolution

Directivity:

43 db (calibrated)

Measurement for:

25 / 50 / 75 / 100 / 150 / 200 / 300 / 450 and 600 Ohm systems

SWR measurement range:

1 to 100 in numerical modes, 1 to 10 in chart modes

SWR display:

numerical or analog indicator

R and X range:

0…2000, -2000…2000

PC programming:

Yes, with USB connector

Factory OSL:

Yes

User OSL:

10 profiles available

OSL Records:

250 unified memory slots
Display modes
SWR: Single or multiple frequencies
SWR: Return loss, R, X, Z, L, C, Magnitude, and Phase Angle at a single frequency
SWR chart: 100 points
SWR chart at fixed HAM bands by IARU Regions: 100 points
TDR chart: Time Domain Reflectometer
Cable tools: Stub tuner, length & velocity factor, cable loss and characteristic impedance measurement)
RF output
Output signal shape: square, 0.1 to 3000.0 MHz (0.1 to 200 MHz. For higher frequencies, harmonics of the main signal are used)
Output power: -10 dBm (at 50 Ohm load)
Power
Batteries: Three 1.2V Ni-MH batteries, type AAA / Three 3.7V LiPo batteries, 14200
Battery life: Max. 5 hours of continuous measurement, max. 2 days in stand-by mode when fully charged batteries are used
Program mode: When the analyzer is connected to a PC or a DC adapter with USB socket, it takes power from these source
Interface
Display: 800×400 color BlanView display
Keypad: 6×3 keys on the water-proof keypad
Menu: Multilingual menus and help screens
Bluetooth
Bluetooth Specification: v. 4.2 (Single-mode, Class B)
Mechanical data
Input connector:

N female for 0.1 to 3000.0 MHz

Length:

100 mm

Height:

230 mm

Width:

55 mm

Weight:

442 gram
Inside the box
Analyzer:

Yes

Installation manual:

English

Battery:

Yes, 3x 1.2V Ni-MH batteries, type AA (Rechargeable)

USB cable:

Yes

Silicon case:

Yes

Battery charger:

Yes

Adapter:

Yes, N male to UHF (PL) female