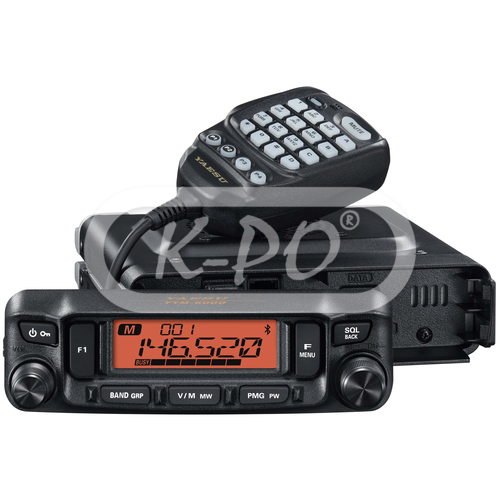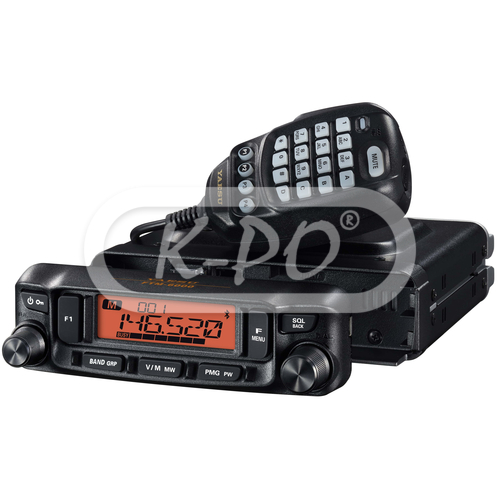 Yaesu - FTM-6000E
Product code:
XAH079M304-1E
Factory code:
XAH079M304-1E
The Yaesu FTM-6000E is an 50W VHF/UHF Dual Band FM Mobile Transceiver.

Easy to Operate-III (E2O-III)

The new FTM-6000E is a basic feature packed mobile transceiver employing a new User Operating Interface - E2O-III (Easy to Operate – III). E2O-III provides three (3) user-intuitive operating modes to assign functions and settings: (1) The most frequently used function can be registered to the "F1" key and then recalled with a single touch of the "F1" key. (2) Other frequently used functions can be assigned to a Function List and then recalled by simply pressing the "F Menu" key and rotating the dial. (3) All functions and items other than those registered to "Most frequently" or "Other frequently', are selectable by pressing and holding the "F Menu" key and rotating the dial Up to 5 channels can be registered in PMG (Primary Memory Group). Frequently used PMG frequencies can be shown in an easy-to- distinguish display just by pressing the "PMG" key.

Stable 50 Watt Output

The FTM-6000E provides stable and reliable 50W RF power output. The FTM-6000E is also equipped with a heavy-duty heat sink that includes our exclusive FACC (Funnel Air-Convection Conductor – Wind Tunnel).
Bluetooth support

The FTM-6000E supports optional Bluetooth® wireless operation using the SSM-BT10 Headset or a commercially available Bluetooth® headset.

Clear audio

The speaker delivers 3W of clear and crisp receive audio which has been specifically tuned for radio communication.

Frequency range:
TX: 144-146 / 430-440 MHz, RX: 108-999.99 MHz
Shipped next business day
€279.95

(231.36 excl. 21% VAT)
Features
Display:

Yes with backlight

DTMF:

Yes

Mode of emission:

F2D / F3E

Bluetooth:

Version: 4.2 / Class: 2

Operating System:

Yes, E2O-III

Memory Auto Grouping (MAG):

Yes, Memory channels can be easily grouped and recalled by band. Each time the [BAND grp] key is pressed while operating in memory mode, the bands are switched in the order illustrated below.

Primary Memory Group (PMG):

Yes, Frequently used frequencies that have been registered in PMG, can be displayed in an easy-to-understand manner simply bypressing the [PMG pw] key

Digital Code squelch (DCS):

Yes, DCS (Digital Coded Squelch) function allows audio to be heard only when signals containing the matching DCS code are received.

PAGER (EPCS):

Yes, This feature allows calling specified stations only, by using a pager code that combines two CTCSS tones.

Automatic Range Transponder System (ARTS):

The ARTS feature uses DCS signaling to inform both parties when you and another ARTS equipped station are within communications range.

VFO Band Skip:

Yes, The VFO band selection is enabled by pressing the [BAND grp] key. Also, unused bands may be skipped.

Time-out Timer:

Yes

External DATA jack:

Yes

External speaker socket:

Yes
Electrical data
Frequency step:

5 kHz / 6.25 kHz / 8.33 kHz / 10 kHz / 12.5 kHz / 15 kHz / 20 kHz / 25 kHz / 50 kHz / 100 kHz /

Channels:

1100

Operating temperature:

-20℃ to +60℃

Frequency stability:

±2.5 PPM

Operating voltage:

13.8 Volt (Negative Ground)

Current consumption:

RX: 0.5 A / TX: 10 A (50W 144 / 430 MHz)
Transmitter
Power output (Watts):

5/25/50 Watts

Spurious Emission:

≤ 60 dB

Modulation type:

F2D / F3E: Variable Reactance Modulation

Maximum deviation:

±5.0 kHz

Antenna impedance:

50 Ω

Microphone impedance:

2k Ω

DATA Jack impedance:

10k Ω
Receiver
Sensitivity 108-137 MHz AM:

0.8 μV typ for 10 dB SINAD

Sensitivity 137-140 MHz FM:

0.2 μV typ for 12 dB SINAD

Sensitivity 140-150 MHz FM:

0.2 μV typ for 12 dB SINAD

Sensitivity 150-174 MHz FM:

0.25 μV typ for 12 dB SINAD

Sensitivity 174-222 MHz FM:

0.3 μV typ for 12 dB SINAD

Sensitivity 222-300 MHz FM:

0.25 μV typ for 12 dB SINAD

Sensitivity 300-336 MHz AM:

0.8 μV typ for 10 dB SINAD

Sensitivity 336-420 MHz FM:

0.25 μV typ for 12 dB SINAD

Sensitivity 420-470 MHz FM:

0.2 μV typ for 12 dB SINAD

Sensitivity 470-540 MHz FM:

0.2 μV typ for 12 dB SINAD

Sensitivity 540-800 MHz AM:

0.8 μV typ for 12 dB SINAD

Sensitivity 800-900 MHz AM:

0.4 μV typ for 12 dB SINAD

Sensitivity 900-999.99 MHz AM:

0.8 μV typ for 12 dB SINAD

Intermediate frequency 1st:

58.05 MHz

Intermediate frequency 2nd:

450 kHz

Receiving system:

Dual conversion superheterodyne

Strength of secondary radio waves:

≤4 nW

Audio power output (Internal speaker):

3W (8 Ω, THD10%, 13.8 V)

Audio power output (External speaker):

3W (8 Ω, THD10%, 13.8 V)

Selectivity (-6 dB/-60 dB) NFM/AM::

12 kHz / 30 kHz
Mechanical data
Length (Radio unit):

132 mm

Height (Radio unit):

42 mm

Width (Radio unit):

139 mm

Length (Controller):

35 mm

Height (Controller):

40.5 mm

Width (Controller):

140 mm

Weight:

1100 gram

Antenna connector:

UHF (PL) female (SO-239)

Microphone connector:

RJ12
Inside the box
Transceiver:

Yes

DC power cable:

Yes

Installation manual:

English

Microphone:

Yes, SSM-85D DTMF Microphone

Control cable:

Yes, 3 meters

Bracket for main body:

Yes

Bracket for the controller:

Yes

USB Cable:

Yes

Fuse:

Yes, Spare fuse (15A)